Linear Motion Module integrates ironless direct drive motor.
Press Release Summary: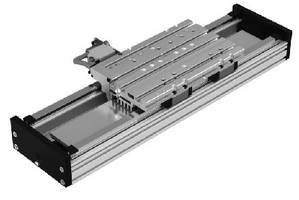 By integrating ironless linear motor with Ball Rail® system, CKL Compact Module eliminates need for mechanical drive elements to execute movement, providing wear-free and zero-backlash drive that enables precise positioning. Unit is available in pre-configured lengths up to 5,500 mm, travel velocities up to 5 m/sec, and acceleration up to 150 m/sec. Module is suited for packaging and processing applications such as pick-and-place handling systems, feed units, loaders, and palletizers.
---
Original Press Release:

New CKL Compact Module with Linear Motor Delivers High Force density in Compact Package



Part of the complete Rexroth CKx family of compact linear motion modules, the CKL integrates an ironless linear direct drive motor with a Ball Rail® system for precise positioning and zero backlash



The compact, powerful and versatile CKL linear module with ironless linear motor offers a unique linear motion solution for applications where high dynamics and excellent positioning accuracy are required.



The new CKL Compact Module supports high load ratings and high rigidity; by integrating the ironless linear motor into the module, no mechanical drive elements are required to execute movement, making for a wear-free and zero-backlash drive that enables ultra-precise positioning and long service life.



A key part of Rexroth's complete family of high-performance linear modules, it provides an excellent option for packaging and processing applications such as pick-and-place handling systems, feed units, loaders and palletizers.

It has been designed for easy configuration and installation, with pre-configured connections for power, measuring systems and hall sensor adaptors, as well as clamping fixtures with centering rings designed to fit easily with other Rexroth linear modules and aluminum structural framing that are part of Rexroth's EasyHandling Solutions.



The CKL Compact Module features:

• Available in a variety of pre-configured lengths up to 5500 mm

• Travel velocities up to 5 meters/second

• Acceleration up to 150 meters/second

• High load ratings and high rigidity

• Perfect tracking, high positioning and repetition accuracy

• Contactless drive -- no moving parts

• Low maintenance costs due to wear-free motor and central relubrication options



The CKL Compact Module is offered in multiple size and linear motor configurations, and is available as a complete package, including drive controller and control system and accessories such as digital or analog measuring systems, switches, sensors, power cabling trays and attachments.



By integrating an ironless linear motor with no moving parts into the CKLmodule, Bosch Rexroth's new module offers outstanding reliability and lower maintenance requirements. Combined with the proven smooth, precise performance of the Rexroth linear rails and runner blocks the system uses, OEMs and system integrators can anticipate maximum uptime and long operational service.



For a list of specifications as well as available features and accessories please visit www.boschrexroth-us.com



Bosch Rexroth AG is one of the world's leading specialists in the field of drive and control technologies. Under the Rexroth brand name, the company supplies more than 500,000 customers with tailored solutions for driving, controlling, and moving. Bosch Rexroth is a partner for Mobile Applications, Machinery Applications and Engineering, Factory Automation and Renewable Energies. The company provides customized solutions tailored to the needs and specifications of each individual market. As The Drive & Control Company, Bosch Rexroth develops, produces, and sells components and systems in over 80 countries. As part of the Bosch Group, Bosch Rexroth and its 38,400 associates generated approximately 6.4 billion euros ($8.9 billion) in revenue in 2011.



To learn more, please visit www.boschrexroth-us.com.



In the U.S., Canada and Mexico, the Bosch Group manufactures and markets automotive original equipment and aftermarket products, industrial drives and control technology, power tools, security and communication systems, packaging technology, thermotechnology, household appliances, solar energy, healthcare telemedicine and software innovations. Having established a regional presence in 1906, Bosch employs over 22,500 associates in more than 100 locations, with sales of $9.8 billion in fiscal year 2011, per preliminary figures.  For more information, visit www.boschusa.com.



The Bosch Group is a leading global supplier of technology and services. According to preliminary figures, more than 300,000 associates generated sales of 51.4 billion euros ($71.5 billion) in the areas of automotive and industrial technology, consumer goods, and building technology in fiscal year 2011. The Bosch Group comprises Robert Bosch GmbH and its more than 350 subsidiaries and regional companies in some 60 countries. If its sales and service partners are included, then Bosch is represented in roughly 150 countries. This worldwide development, manufacturing, and sales network is the foundation for further growth. Bosch spent more than 4 billion euros ($5.5 billion) for research and development in 2011, and applied for over 4,100 patents worldwide. With all its products and services, Bosch enhances the quality of life by providing solutions which are both innovative and beneficial.  Further information is available online at www.bosch.com and www.bosch-press.com.



Contact for Journalists:

Bosch Rexroth Corporation

Susan Strauss

2315 City Line Road

Bethlehem, PA 18017

Telephone (610) 694-8352

Fax (610) 694-8266

susan.strauss@boschrexroth-us.com

More from Cleaning Products & Equipment