Linear Modules help build small handling systems.
Press Release Summary: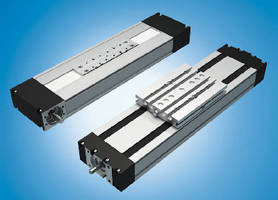 Available in size 9-70, Compact Modules CKK and CKR come in customer-specified lengths up to 600 mm for ball screw version and 1,500 mm for toothed belt version. Each module consists of rigid aluminum housing measuring 70 mm wide and 32 mm high, including carriage plate. Both feature 2 ball rail systems for smooth, precision guidance. Two polyurethane sealing strips on CKK ball screw version provide protection from contamination, such as dust and liquids.
---
Original Press Release:

Rexroth Compact Modules in New Sizes Simplify Design and Build of Small Handling Systems



Ready-to-install modules for small, precise handling systems with lighter loads: Rexroth Compact Modules CKK and CKR 9-70

New Rexroth Compact Modules in size 9-70 provide new options for smaller handling applications with lengths up to 1,500mm.

(Charlotte, NC - www.boschrexroth-us.com) Rexroth's proven Compact Modules CKK and CKR are now available in size 9-70 to simplify the handling of lighter loads in pick-and-place, assembly and other automated applications. Users can choose between ball screw (CKK) and toothed belt (CKR) versions with identical connection dimensions, common accessories and mounting components. Rexroth's new ready-to-install linear modules ship in customer-specified lengths cut to the millimeter: up to 600 millimeters for ball screw version CKK and 1,500 millimeters for the toothed belt model CKR.

Each compact module consists of a rigid aluminum housing only 70 millimeters wide and 32 millimeters high including the carriage plate and features two ball rail systems for smooth, precision guidance-even at fast travel speeds. The ball rail systems provide excellent stiffness characteristics and ensure a high load rating in all four load directions. Two polyurethane sealing strips on the CKK ball screw version provide protection from contamination, such as dust and liquids. .

The new modules also boast an integrated connection interface on the carriage plate with Rexroth's unique Easy-2-Combine connection system. The positive connection technology saves users considerable time by taking the place of adapters and connecting parts which previously had to be custom fabricated.

Central relubrication of the carriage and the ball screw drive from both sides of the main body or via the optional carriage plate significantly reduces maintenance costs. Motor mounting is simplified thanks to mounting features on the driven end of the module. For ball screw drive model CKK, the available options include a motor flange and coupling, or a belt side drive which reduces the required mounting space. In addition to the motor flange and coupling, the belt-drive version CKR offers an optional hollow-shaft design to further reduce the overall width of the module, gearbox, and motor assembly. Different gear ratios allow for optimal inertia matching between the motor and the external load, depending on the application. Reed and hall sensors may be mounted anywhere along the travel length for complete flexibility within the handling range.

The compact modules fit seamlessly into the camoLINE building system for Cartesian applications, as well as into Rexroth desktop factory applications. As complete axes with matching servo drives or 3-phase stepper motors, as well as perfectly matched drive controls, the new, smaller Compact Modules accelerate the construction and start-up of custom handling systems in semiconductor, medical, optical and other assembly applications.

Bosch Rexroth AG is one of the world's leading specialists in the field of drive and control technologies. Under the brand name of Rexroth the company supplies more than 500,000 customers with tailored solutions for driving, controlling and moving machinery used in industrial and factory automation as well as in mobile applications. Bosch Rexroth is a partner for industrial applications, factory automation, mobile applications and renewable energy development. As The Drive & Control Company, Bosch Rexroth develops, produces and sells components and systems in more than 80 countries. In 2008 Bosch Rexroth AG, part of the Bosch Group, achieved sales of around $8.3 billion (5.9 billion Euro) with 35,300 employees. Visit www.boschrexroth-us.com for more information.

More from Laboratory and Research Supplies and Equipment