Linear Magnetic Encoders support up to 100 m measuring length.
Press Release Summary: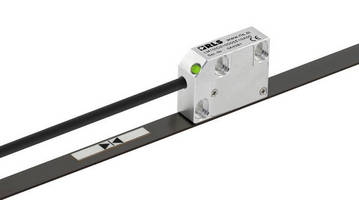 Sealed to IP68, LM10 brings 100 m travel capability to machinery applications with high-speed, high-precision positioning requirements. Solid-state, non-contact design features read-head that rides at 0.1-1.5 mm standoff over self-adhesive magnetic strip scale, providing count for positioning with 5 µm resolution at 20 m/sec and 1 µm at 4 m/sec. Resistant to shock, vibration, and pressure, products include digital and analog output models with resolutions of 1, 5, 10, 50, and 100 µm.
---
Original Press Release:

New Linear Magnetic Encoders Long on Performance, Durability, Value and Application Versatility - Up to 100 Meter Measuring Length



LM10 linear encoder joins proven family of rotary/angle magnetic encoders

New LM10 linear magnetic encoders "go long" - bringing 100 meter travel capability and fit-and-forget convenience to high-speed, high-precision positioning for industry's toughest machinery applications. The solid-state, non-contact design features a compact, IP68 readhead that rides at 0.1 to 1.5 mm standoff over a self-adhesive magnetic strip scale, providing the count for high-performance positioning - e.g. 5 µm resolution at 20 m/s and 1 µm at 4 m/s. Non-contact magnetic sensing delivers dependability in applications too dusty, dirty, greasy or destructive for optical encoders, while providing OEMs with major cost economies. Simple to install, the LM10 features integral setup LEDs on the readhead, wide installation tolerances, and an applicator tool for the adhesive-backed magnetic scale. The scale is available either "cut to length" or in lengths of up to 100 m in easy-to-handle coils.

LM10 magnetic encoders are ideal for tough applications, such as woodworking, stone-cutting, sawing, metalworking, textiles, packaging, paper and converting, plastics processing, automation and assembly systems, laser/flame/water-jet cutting, electronic chip/board production, etc. Engineered for extreme service, they are waterproof sealed to IP68 and capable of withstanding temperatures from 20°C to 85°C, as well as high shock, vibration, and pressure. Non-contact, frictionless operation eliminates wear while reducing inertia for high precision at high speeds and acc/dec.

Offering great application versatility, the LM10 encoders come in digital or analog output models and offer customer-selectable resolutions including 1, 5, 10, 50 and 100 µm and user-selectable reference mark position. The LM10 delivers maximum velocity of 25 m/s at sinusoidal output, while digital models position are rated to 25 m/s for outputs at 100, 50 and 10 µm resolution, or 20 m/s at 5 µm resolution and 4 m/s at 1 µm.

The new Renishaw linear encoders join a proven family of RLS magnetic rotary/angle encoders using Nobel Prize-winning Magneto Resistive technologies, chosen by OEMs worldwide for affordability and dependability. As with all Renishaw products, a worldwide application support network and local inventory give confidence to system developers and OEM volume producers.

For more information on the LM10 linear magnetic encoders, contact Howard Salt, Business Manager, Encoder systems, Renishaw Inc., 5277 Trillium Boulevard, Hoffman Estates, IL 60192. Phone 847-286-9953; fax 847-286-9974. Email: howard.salt@renishaw.com

For a detailed look at other productivity enhancements for metrology, linear and rotary position feedback, and machine tool calibration, visit Renishaw's web site at: http://www.renishaw.com/encoders

More from Food Processing & Preparation