Sensors / Detectors / Transducers
Linear Hall Encoder offers submicron resolution.
Press Release Summary: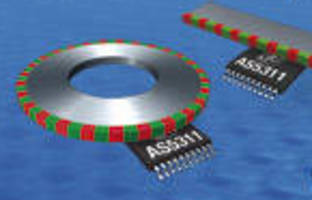 For linear motion sensing, AS5311 utilizes 2 mm multipole magnetic strip and provides 1.95 µm resolution signal at incremental output and 488 nm signal at serial output. It uses multipole magnetic ring for rotary motion sensing, with incremental output resolution of 10 bit/pole pair and traveling speed of up to 650 mm/sec. Operated with 3.3 or 5 V supply voltage, unit operates in temperatures from -40 to +125°C. Onboard diagnostics monitor placement of magnet above device.
---
Original Press Release:

austriamicrosystems Introduces AS5311, the First Integrated Linear Hall Encoder to Break into the Submicron Resolution Range



AS5311 is ideal for position feedback of micro-actuators and an alternative to incremental optical encoders in harsh environments

Unterpremstaetten, Austria (April 16, 2009) - austriamicrosystems (SIX: AMS), a leading global designer and manufacturer of high performance analog ICs for communications, industrial, medical and automotive applications, today introduced AS5311, the first Hall-effect sensor based linear magnetic encoder to offer submicron resolution.

This integrated linear Hall encoder can be used as an alternative to optical encoders. For linear motion sensing, a multi-pole magnetic strip is used and for rotary motion sensing the magnetic strip is replaced by a multi-pole magnetic ring. For applications like this, an incremental output with a resolution of 10 bit per pole pair and a travelling speed up to 650mm per second is available. Using for example a multi-pole magnetic ring with a diameter of 41.7mm, a resolution of 16 bit (65.536 steps per revolution) can be achieved.

In conjunction with a 2mm pole-pair magnetic strip, the AS5311 provides a 1.95 micrometer resolution signal at its incremental output and a 488 nanometer resolution signal at its serial output.

"austriamicrosystems' AS5311 together with the magnetic strip are the only two components required to build a robust submicron-resolution position feedback system", says Josef Janisch, Encoder Product Manager at austriamicrosystems. "This small form factor allows AS5311 to be integrated in autofocus, zoom and vibration reduction systems in cameras, switching systems in fiber optics or other micro-positioning applications where tight space is a concern and high resolution is demanded."

"The AS5311 is the first linear magnetic encoder with submicron resolution, based on our successful integrated Hall sensor technology", says Matjaz Novak, Director of Marketing Industry & Medical at austriamicrosystems. "

It offers an attractive solution for applications where cost, high precision and small form factor are the constraints. With the AS5311, we want to offer a device which will allow system designers to implement position sensing solutions meeting all these constraints at the same time".

austriamicrosystems' encoder chip also provides extended diagnostic features that constantly monitor the placement of the magnet above the device. These features allow early detection of mechanical systems failures. In addition, the device compensates for the adverse effects of unwanted external magnetic fields thus ensuring additional safety and robustness of the system.

The AS5311 can be operated with either 3.3V or 5V supply voltage and is available in a 20-lead TSSOP-package. The device is specified for an ambient temperature range from -40° to +125°C.

For product specific information, to download data sheets or to request free samples from austriamicrosystems' online shop ICdirect, please visit www.austriamicrosystems.com/Linear-Hall-Encoder/AS5311.

About austriamicrosystems

austriamicrosystems is a leading designer and manufacturer of high performance analog ICs, combining more than 27 years of analog design capabilities and system know-how with its own state-of-the-art manufacturing and test facilities. austriamicrosystems leverages its expertise in low power and high accuracy to provide industry-leading customized and standard analog products. Operating worldwide with more than 1,000 employees, austriamicrosystems focuses on the areas of power management, sensing and mobile entertainment in its markets Communications, Industry & Medical and Automotive, complemented by its Full Service Foundry activities. austriamicrosystems is listed on the SIX Swiss Exchange in Zurich (ticker: AMS). For more information, please visit www.austriamicrosystems.com.

For further information

Press Contact

austriamicrosystems AG

Ulrike Anderwald

Marketing Communications Manager

Tel: +43 (0) 3136 500 5856

Fax: +43 (0) 3136 500 5420

press@austriamicrosystems.com

www.austriamicrosystems.com

Technical Contact

austriamicrosystems AG

Josef Janisch

Product Marketing Manager

Tel: +43 (0) 3136 500 5464

Fax: +43 (0) 3136 500 5420

josef.janisch@austriamicrosystems.com

www.austriamicrosystems.com

More from Fasteners & Hardware