Linear Hall-Effect Sensor ICs feature subminiature footprint.
Press Release Summary: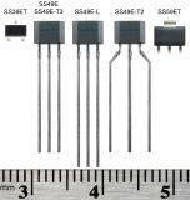 Housed in subminiature SOT-23 surface mount package, SS39ET Series monitors magnetic fields from permanent magnet or electromagnet. Devices respond to both North and South poles, and can be powered with voltages as low as 2.7 V with low current consumption of 6 mA at 5 Vdc. Operating from -40 to 212°F, ICs are suited for pump control, current sensing for motor load monitoring, handlebar/throttle position sensing, and anti-tampering magnetic field sensing in smart remote utility meters.
---
Original Press Release:

Honeywell Expands Portfolio with New SS39ET Series Linear Hall-Effect Magnetic Position Sensor IC



Low-cost, Versatile SOT-23 Subminiature Surface Mount Package Ideal for Compact Designs with Tight Space Requirements

SS39ET

MINNEAPOLIS, - Honeywell (NYSE:HON) is extending its Linear Hall-effect Sensor Integrated Circuits (IC) product line with the addition of the new SS39ET Series to its SS49E and SS59ET portfolio of low-cost Linear Hall-effect devices.

With the launch of the SS39ET Series, Honeywell's Linear Hall-effect product family now consists of three package styles with different lead configurations:

o SS39ET: subminiature SOT-23 surface mount package (tape and reel format)

o SS49E: leaded flat TO-92 package (bulk packaging, 1000 units per bag), SS49E-T2 (straight leads), and SS49E-T3 (formed leads) on tape in ammopack (fan-fold) format

o SS59ET: miniature SOT-89B surface-mount package (tape and reel format)

"With the launch of the new SS39ET Series, customers can choose the package style and size to meet their application needs," said Josh Edberg, senior global product marketing manager for Honeywell Sensing and Control. "Customers will appreciate the SS39ET Series' SOT-23 subminiature footprint that takes up less space on the PC board, allowing more design flexibility and cost savings in their application."

The SS39ET Series are designed to monitor magnetic fields from a permanent magnet or an electromagnet. All packages can be supplied on tape for automated, lower-cost assembly. These devices respond to both North and South poles, and can be powered with voltages as low as 2.7 V.

A wide temperature range of -40 °C to 100 °C [-40 °F to 212 °F] allows use in many environments, and the thermally balanced, integrated circuit provides stable operation over the full temperature range. Thin film resistors improve accuracy and provide a stable output. The energy-efficient, low current consumption of 6 mA at 5 Vdc and the 2.7 Vdc to 6.5 Vdc supply voltage range allow circuit design flexibility.

Potential industrial applications for the SS39ET Series include:

o Anti-tampering magnetic field sensing in smart remote utility meters

o Basic current sensing for motor load monitoring, detection

o Pump control in heavy-duty equipment and household appliances

o Simple linear or angular displacement sensing

o Handlebar/throttle position sensing in e-bikes and scooters

o Current sensing in appliances

o Speed adjustment trigger in tools and appliances

o Magnetic code reading in safes, security, and building access control systems.

Potential medical applications for the SS39ET Series include:

o Position sensing in infusion pumps

Get more information on this product

http://sensing.honeywell.com/index.php?ci_id=142884&la_id=1

Learn more about Honeywell Sensing and Control

http://sensing.honeywell.com/

Honeywell International (www.honeywell.com) is a Fortune 100 diversified technology and manufacturing leader, serving customers worldwide with aerospace products and services; control technologies for buildings, homes and industry; automotive products; turbochargers; and specialty materials. Based in Morris Township, N.J., Honeywell's shares are traded on the New York, London, and Chicago Stock Exchanges. For more news and information on Honeywell, please visit www.honeywellnow.com.

Contact:

Robyn Seykora

Honeywell Sensing and Control

(763) 954-5378

robyn.seykora@honeywell.com

More from Health, Medical, & Dental Supplies and Equipment