Linear Guides withstand harsh industrial environments.
Press Release Summary: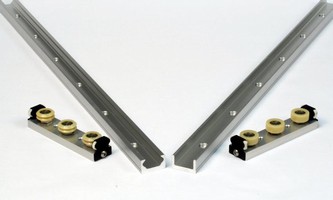 Designed for linear motion manufacturing applications, UtiliTrak PW Series Linear Guides feature polymer overmolded wheels carrying loads to 311N with up to 1.5 m/sec of travel. Anodized aluminum track comes in V-style for DualVee® wheels and U-style for MadeWell(TM) crowned rollers, and is available in lengths to 12 ft. Built-in lubricator wiper caps clear debris and lubricate track surface at both ends. Wheel plates are available in 3, 4, and 5-wheel configurations.
---
Original Press Release:

Easy Does it with Bishop-Wisecarver's New PW Series Utilitrak® Linear Guide



Ideal for Applications Where Low Cost and Easy Installation are Key

Pittsburg, CA - - June 8, 2006 - - Today, Bishop-Wisecarver Corporation announced its new UtiliTrak PW Series Linear Guide, an economical way to add light duty linear motion to your manufacturing applications.

This latest addition to the company's product line features high reliability with smooth, antifriction operation, all within a sleek, compact design. UtiliTrak is easy to install and eliminates the need for expensive, steel units in applications where low cost is a key objective. Its low-friction polymer wheels feature a high-grade synthetic lubricant and stainless steel studs. Chemical-resistant polymer allows UtiliTrak's wheels to withstand harsh environments, making it an ideal solution for a wide range of industries.

The precision-engineered PW Series UtiliTrak was created with efficiency - and convenience - in mind. Its polymer overmolded wheels carry loads up to 311N, and travel up to 1.5 meters per second. Eccentric and concentric studs allow customers to vary preload to a desired amount. Large thread diameters accommodate high installation torques, ensuring the wheels keep their adjusted preload value despite vibration.

Track is sold V-style for polymer DualVee® and U-style for MadeWell(TM) crowned rollers. Track is made of sturdy, anodized aluminum and is sold in lengths up to 12 feet, which can be easily joined for longer length applications.

Wheel plates are built to last. They come in 3, 4 and 5-wheel configurations, and are available in sizes 0, 1 and 2 for both DualVee polymer wheels and polymer MadeWell crowned rollers. Wheel plates contain built-in lubricator wiper caps at both ends, which clear debris and lubricate the track surface.

For more information and product photographs, please contact Renee Halog. tel: 1.925.431.8234 email: [email protected].

About Bishop-Wisecarver
Bishop-Wisecarver Corporation has remained one of the most respected names in guided motion technology since 1950. The San Francisco Bay Area company manufactures, stocks, and distributes guided motion components and systems for linear, rotary and curved track applications. Bishop-Wisecarver products are used worldwide in industries such as packaging, medical device manufacturing, wood processing, food processing, and semi-conductor fabrication.

Bishop-Wisecarver has been the exclusive North and Central American Partner and Distributor for HepcoMotion® products since 1984. HepcoMotion is the worldwide identity and trading name for Hepco Slide Systems, Ltd.