Linear Guides provide high-speed/short stroke movements.
Press Release Summary: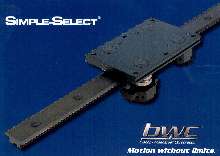 Simple-Select® Vee Slide Linear Guidance Systems offer 4 sizes of spacer slides complete with carriages, assembled and ready for installation. General purpose spacer slides, precision cold drawn and hardened on Vee running surface, provide accuracy and smooth low friction movement, even in hostile environments. Double row bearings offer long life, while fitted cap seals prevent dirt ingress and ensure constant positive lubrication.
---
Original Press Release:

New from Bishop-Wisecarver Corporation Simple-Select®


Simple to Specify, Simple to Order

PITTSBURG, CALIFORNIA June 12, 2003-BWC's Vee slide linear guidance systems, Simple-Select® offers four useful sizes of spacer slides complete with carriages assembled ready for installation. All units are fitted with double row bearings and cap seals to ensure a long and trouble-free life. Our general purpose spacer slide, precision cold drawn and hardened on the Vee running surfaces, provides good accuracy and long life, even in the most hostile environment. Specifying could not be easier. Check the load to be carried against the carriage load ratings and check that the physical size meets your requirements. Simple to specify, simple to order.

Simple-Select® Benefits:
o Select from a standard range of 4 popular sizes
o Ideal for high speed / short stroke movements
o Low installation time, simply bolt slide down
o Can be fitted to unmachined surfaces if required
o System compliance - ideal for fitting to aluminum profiles
o Accurate drawn slide allows smooth low friction movement
o Double row bearings for long and trouble free life
o Fitted cap seals prevent dirt ingress and ensure constant positive lubrication
o Quiet in operation
o Induction hardened Vee slide-low wear characteristics

Contact:
Chris Chandler
Bishop-Wisecarver Corporation
Marketing Manager
chris@bwc.com
925/431-8203, phone
925/431-5931, fax

Ariel Oriel
Bishop-Wisecarver Corporation
Applications Engineering Manager
arielo@bwc.com
925/431-8202, phone
925/431-5931, fax