Linear Guide Systems offer flexible configurations.
Press Release Summary: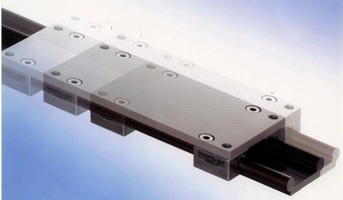 DryLin® W linear guide systems, comprised of linear bearings and slides with plastic glide elements, are self-lubricating, maintenance-free, and contaminant-resistant. With overall height of 14 mm, products are available as combination of 2 supported round shafts in one profile, in split rail configuration, or with square rails. Slides, comprised of 2 or 4 gliding carriages, are made of pressure die-cast zinc, and spacing can be pre-selected at 100, 150, or 200 mm.
---
Original Press Release:


DryLin W Linear Guide Systems are Versatile, Flexible and Low Cost




EAST PROVIDENCE, R.I. - August 25, 2005 - Igus(r) Inc., the industry-leading developer of iglide(r) plastic bearings, Energy Chain(r) cable carriers and Chainflex(r) cables, offers DryLin(r) W linear guide systems, the newest member of the DryLin suite of linear bearings and slides with plastic glide elements. DryLin W is available in multiple rail configurations and styles to provide more design options. It is a low-cost, extremely compact and easy to install solution. As with all DryLin bearings and slides, DryLin W is lightweight, self-lubricating, maintenance-free and contaminant-resistant.

DryLin W has a very low overall height of 14 millimeters and is available as a combination of two supported round shafts in one profile, in a split rail configuration or with square rails. Each option provides its own unique advantages. The single profile round-rail option significantly lowers the cost of an application and eliminates time-consuming shaft alignment and assembly. If the acting forces project beyond the slide or space is limited, the split rails can be assembled at a 90-degree angle. The square rails ensure that loads are evenly distributed and lowers the amount of friction encountered by the rail. In applications where the rail does not travel across a level plane, the plastic liner can be adapted to float and realign based on differentiating heights.

Other options include installing the linear slides as four bearing blocks connected to a mounting plate for ease and simplicity, or bolting them directly to the superstructure to reduce height by an additional six millimeters.

The slides, comprised of two or four gliding carriages, are made of low-cost, pressure die-cast zinc. The spacing of the slides can be pre-selected at 100, 150 or 200 millimeters. By varying the spacing, it is possible to achieve the necessary torque-resistance.

DryLin W is well suited for automation, packaging, textile, machine tool, printing and medical applications. As does the entire DryLin family of linear guide systems, DryLin W delivers superior performance even in high-acceleration or short-stroke applications.

DryLin linear guide systems are an ideal replacement for re-circulating ball bearings due to their maintenance-free, oil-free and self-lubricating operation. Unlike ball bearings, contaminants cannot build up in DryLin. This prevents malfunction and shaft damage. DryLin bearings and guide systems have a low coefficient of friction, are corrosion-resistant and wear-resistant. The DryLin family also includes DryLin R linear plain bearings, DryLin T linear slides, DryLin N micro slides, Quadroslide preassembled slide units and DryLin S anodized aluminum shafting.

About igus
Igus Inc., founded in 1985 and based in East Providence, R.I., develops and manufactures industry-leading plastic cable carriers, continuous-flex cables, plastic bearings and linear guide systems. With more than 28,000 products available from stock, the company meets the motion control and machinery component needs of customers worldwide. Product lines include Energy Chain Systems(r) to protect and house moving cables, Chainflex continuous-flex cables, iglide self-lubricating, oil-free, plastic bearings, DryLin linear guide systems and igubal(r) spherical bearings. For more information, contact igus at (888) 803-1895 or visit www.igus.com.

igus, iglide, Energy Chain, Chainflex, DryLin, Energy Chain Systems, and igubal are registered trademarks of igus Inc.


More from Packaging Products & Equipment