Linear Guidance Systems offer lubricant metering valves.
Press Release Summary: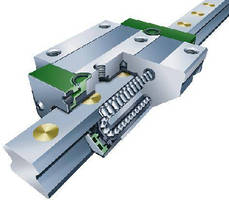 Incorporating lubricant metering discs, RUE-E roller monorail guidance systems exhibit reduced lubricant consumption levels up to 25%. Integral SMDS metering valve provides precise doses of lubricant to linear guides, which have only one valve per side and function irrespective of mounting position. Metering valves replace standard O-ring seals and prevent lubricant duct from running dry as well as help avoid inadequate lubrication or over metering.
---
Original Press Release:

Metering Valves Cut Lubricant Consumption by 25 Percent on Linear Guidance Systems



By incorporating special lubricant metering discs on its range of linear recirculating roller bearings and guideway assemblies, Schaeffler has reduced lubricant consumption by more than 25 per cent compared to conventional designs.

A range of linear recirculating roller bearings and guidance systems are now available with special lubricant metering valves, which provide precise doses of lubricant to the linear guides, reducing lubricant consumption by more than 25 per cent compared to standard designs, reducing maintenance and servicing costs and preserving resources for the customer.

Schaeffler's RUE-E range of roller monorail guidance systems can now be fitted with special lubricant metering valves to ensure that the lubricant is precisely metered under all operating conditions, regardless of the guide's mounting position. This is made possible because of several key design factors.

First, Schaeffler uses a patented injection moulding technology to produce the saddle plate, which, combined with the various connection options for relubrication at the front, rear and side of the carriage end, and the special design of the end pieces - the lubricant is directed precisely at the rolling elements. This not only minimises relubrication quantities, but also improves the reliability of the guide and is kinder to the environment.

John Loonam, Linear Product Specialist at Schaeffler UK comments: "Basically, the O rings in a standard linear guidance system are replaced with the SMDS metering valves. A paper seal is placed between the end plate and the lubrication duct, which prevents leakage of the lubricant from the ends, resulting in a reduction of more than 25 per cent in lubricant consumption compared to standard designs. Only one valve per side and rolling element loop is required and one lubrication connector per carriage."

Several years ago, Schaeffler's Linear Technology specialists developed a relubrication and sealing component kit that contained a metering system for minimising lubricant quantities and various sealing elements. These provided optimal sealing of the lubricant duct for the standard INA-branded roller monorail guidance systems.

The latest SMDS integrated metering valve option offers high reliability with only one lubrication hole per carriage, independent of the roller monorail guidance system's mounting position and operating conditions.

With conventional roller monorail guidance systems, the relubrication duct between the lubrication hole on the linear guide and the rolling elements can become empty, depending on the mounting position and operating conditions. This means more lubricant is required during relubrication to ensure reliable operation and because it takes the lubricant longer to reach its desired destination. With centralised lubrication systems, only one specific dose is provided per impulse, which can be a problem. This can lead to the lubricant arriving late in the rolling elements or, at worst, lubricant starvation. This problem is exacerbated when the guide is mounted at an angle of 90 degrees, often resulting in insufficient supply of lubricant to the upper rolling element rows. In extreme cases, this can cause damage to the rolling elements and raceway, leading to the complete failure of the linear system.

The new SMDS metering valves replace the standard O-ring seals. These prevent the lubricant duct from running dry, avoid inadequate lubrication or over metering, and allow precise relubrication with very small, precise quantities. The linear guides have only one valve per side and function irrespective of mounting position.

For more information on Schaeffler's RUE-E SMDS range of linear recirculating roller bearing and guideway assemblies, please visit www.schaeffler.co.uk or telephone the marketing department on 0121 351 3833.

With a total of 66,000 employees at over 180 locations around the globe and group sales of 8.9 billion euros (fiscal year 2007), the Schaeffler Group is one of the world's leading rolling bearing manufacturers and automotive component suppliers. The corporate group includes the INA Group with headquarters in Herzogenaurach, the FAG Group based in Schweinfurt as well as the LuK Group, with headquarters in Bahl.

Schaeffler (UK) Ltd,
Forge Lane
Minworth
Sutton Coldfield
West Midlands B76 1AP
Tel: 0121 351 3833 Fax: 0121 351 7686
e-mail: [email protected]
www.schaeffler.co.uk