Linear Encoder utilizes hologram scale technology.
Press Release Summary: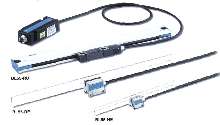 Laserscale Model BL55 features Optical Integrated Circuit technology, which reduces size of reader head. It is offered with Neoceram glass, featuring temperature coefficient of -0.7x10
-6
/°C, ensuring that effects of changes in temperature, humidity, or air pressure are minimized. Linearity is ±0.5 µm on travel lengths to 220 mm. Output signals include 0.4 µm analog output, 0.1 µm A/B phase output, and high resolution 0.05 µm A/B phase output.
---
Original Press Release:
Introducing The BL55 Laserscale, The Next Generation of High Accurary Linear Encoders from Sony

New Product will be Featured in the Sony Booth during National Manufacturing Week.

National Manufacturing Week-Booth 5553 Chicago IL, March 3, 2003-Sony Precision Technology, Inc., the global leader in instrumentation, measurement: devices, and machine tool products is pleased to introduce the BL55 Laserscale. Recent tests have shown that the new compact Laserscale provides the highest performance in its class. The design of the new BL55 Laserscale is ideal for a variety of uses including semiconductors, ultra-precision machining, measurement and testing.

The BL55 Laserscale offers high-speed response, superior accuracy and high environmental resistance. The product takes advantage of new hologram scale technology as well as Sony's recently developed OIC (Optical Integrated Circuit) technology.

The development of OIC has allowed Sony to significantly reduce the size of the reader head, creating a much more compact encoder assembly. Plus, the BL55 can be ordered with Neoceram glass. Neoceram offers a temperature coefficient of -0.7x10-6/°C ensuring that the effects of changes in temperature, humidity, or air pressure are completely minimized. And, with a signal period of 0.4µm, interpolation error is practically non-existent. As a result, the BL55 offers incredible linearity of ±0.5µm on travel lengths to 220mm.

Along with the new compact size and high positional accuracy, the BL55 Laserscale offers three different output signals for the user to choose from: 0.4µm analog output (sine wave signal), 0.1 µm A/B phase output, and a high resolution 0.05µm A/B phase output. Also, depending on the application environment, users can order the product as an exposed glass scale, or as a fully enclosed assembly. Sony Laserscale products have received many great reviews from users in the field of semiconductor manufacture and inspection. The BL55 Laserscale will certainly be a powerful addition to its product line-up for this market. In addition, the new product will also provide consistent high performance for all types of machine tools that require high accuracy position feedback, especially those that incorporate Linear Motor technology.

To request a copy of the Sony product brochure that will provide dimensional information and additional specifications, please contact Sony Precision Technology America, Inc., at 1-888-325-7669 or visit the website at www.sonypt.com.

About Sony Precision Technology America, Inc. (SPTA)

Founded in 1969, Sony Precision Technology, Inc. (SPT) is the world's largest producer of precision measurement and positioning tools, machinery and scientific apparatus. Sony Precision Technology America, Inc. headquartered in Orange
County, CA represents SPT in the United States.

SPTA is also a leading provider of precision measurement devices, including linear encoders, digital linear gauges, and digital readout displays for a wide range of industrial applications. For more information, contact Sony Precision Technology America, Inc. at 949.770.8400, or visit the web site at www.sonypt.com

Corporate Contact

Jennifer Casequin

Marketing Specialist

Sony Precision Technology America

(949) 770-8400

casequin@spt.sony.com

PR Contact for Sony

Carol Warren

Antarra Communications
(714) 899-7997

cwarren@antarra.com


More from Laboratory and Research Supplies and Equipment