Linear Drives are available with fourth rolling ring bearing.
Press Release Summary: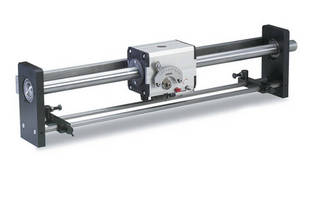 Amacoil-Uhing Model RG3 linear drives with 3 rolling ring bearings can be fitted with 4th, adding 2 more bearing-to-shaft contact points and doubling thrust of units. Products come in range of sizes with side thrust ranging from 7-800 lb. Travel speed and direction are mechanically controlled, suiting drives for use in equipment needing reciprocating linear motion component. They also suit material handling systems, spraying assemblies, converting equipment, and metrology/inspection machines.
---
Original Press Release:

Linear Drive High Thrust Option Doubles Side Thrust without Increasing Drive Size



Aston, PA – Amacoil-Uhing Model RG3 linear drives are now available with an option which doubles the drive's thrust capacity without significantly increasing the size of the unit. To double the drive unit's thrust, an extra rolling ring bearing is installed. The Model RG3 drive thereby becomes an RG4 drive.



There are three rolling ring bearings in the RG3 model. The center bearing makes point contact with the drive shaft on two points generating the maximum side thrust the bearing can deliver. The two outside bearings, however, contact the shaft only on one point which produces half the thrust capacity for each bearing. The addition of the fourth bearing adds two more bearing-to-shaft contact points which doubles the thrust of the unit.



Model RG linear drives are available in a wide range of sizes with side thrust ranging from 7 to 800 pounds. The drives are used in equipment requiring a reciprocating linear motion component. For example, in spooling machines the RG drive moves the cable being spooled back and forth as it feeds onto the spool. The drives are also used in material handling systems, spraying assemblies, converting equipment and metrology/inspection machines. Model RG drives are particularly well suited to these types of back-and-forth applications because travel speed and direction are mechanically controlled. Model RG drive systems therefore reduce or eliminate the need for electronic controls and programming in linear motion systems.



Uhing linear drives are used in various types of machinery including packaging/converting equipment, spooling machines and metrology/inspection equipment. The high thrust option is useful to production personnel and machine designers faced with limited space and high thrust requirements. Additionally, existing Uhing traverse drive systems can be enhanced with the RG4 high thrust model simply by removing the RG3 version and installing the RG4 drive. Since the dimensional differences are negligible, no re-design to accommodate a larger unit is required.



Eight Model RG3 linear drive sizes are available with the 4-ring high thrust option. For models RG3-15, -20, -22, -30 and -40, the drive housing is only slightly longer when the fourth bearing is added. This means that when these drive units are converted to the RG4 style, the travel potential is slightly less than it was for the RG3 version. For models RG3-50, -60 and -80, the drive housing for the RG3 and RG4 models have identical dimensions and travel capacities.



Amacoil is the exclusive N. American distributor for Uhing Company products and provides sales, parts and technical support. For more information please contact Amacoil, 2100 Bridgewater Road, Aston, PA 19014. Tel: 610-485-8300. Toll free: 800-252-2645. Fax: 610-485-2357. email: amacoil@amacoil.com  Web site: www.amacoil.com.



Email reader inquiries to:

beisele@amacoil.com

If using ground mail, please send to Bob Eisele, Amacoil, PO Box 2228, Aston PA, 19014.



Press contact:

Bob Eisele

phone: 610-485-8300





More from Controls & Controllers