Linear Drive Units utilize spindle or timing belt.
Press Release Summary: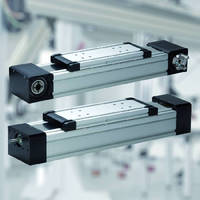 Magnetically sealed with steel band, RK DuoLine 160 Series offers protection rating of IP40. Spindle variant provides vmax of 2 m/s, stroke length of 5 m, and efficiency rating above 85%, while timing belt model provides no-load torque down to 2.5 Nm. BLOCAN® profile slots have T-rails with tapped holes to simplify attachment of loads. To facilitate positioning, optional coupling and motor adapters can be attached to all 4 hollow shaft outputs on idler unit.
---
Original Press Release:

RK DuoLine 160



According to Rose+Krieger this new generation of RK DuoLine linear units, which are supplied with a spindle or timing belt will bring greater flexibility to automation. Thinking about on which side the motor drive should be positioned is no longer necessary. Optional coupling and motor adapters can be attached to all four hollow shaft outputs on the idler unit. Not only does this simplify positioning, customers can also configure and adjust the axial motor themselves.

The DuoLine with spindle drive is fitted with a newly developed spindle support for increased rotational speeds. A vmax of 2 m/s with stroke lengths of around 5 meter is possible. All DuoLine variants are magnetically sealed with a steel band increasing the protection rating to IP40. The enclosed ball rail system also provides an efficiency rating above 85% on the spindle variant and brings the no-load torque for the timing belt variant down to 2.5 Nm.

The variants also share common features in terms of the table installation options. The BLOCAN® profile slots have T-rails with tapped holes to simplify the attachment of loads and provide the greatest possible flexibility. The central lubricator on the table, which supplies grease to the guide system and spindles depending on the type, reduces l maintenance to a minimum. The DuoLine generation begins with the 160x100 size corresponding to the length of the edge on the guide profile in mm. The manufacturer offers a specific service for selecting the right motor specification.

Phoenix Mecano Inc.

7330, Executive Way

www.rose-krieger.com

FRANKS Mike

Phone: +1 248-275-3466

Fax: +1 (3 01) 6 96 94 94

Mike.Franks@pm-usa.com

RK Rose+Krieger GmbH

Potsdamer Str. 9

32423 Minden

Germany

KLÖPPER Bernd

Phone: +49 571 93 35 305

Fax: +49 571 93 35 93305

bernd.kloepper@rk-online.de

Related