Position Sensors / Detectors / Transducers
Linear Displacement Transducer has SSI output, mill-duty housing.
Press Release Summary: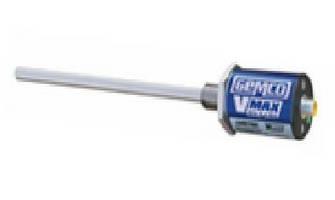 Fully digital VMax Linear Displacement Transducers (LDTs) of GEMCO 953S Series offer absolute position indication with 1 micron resolution and feature Synchronous Serial Interface (SSI) output. This allows LDT to measure tight tolerances over cable runs to 1,200 ft with stable position feedback. Mill duty housing protects LDT from physical and environmental damage while promoting mounting flexibility. Rated to IP68, LDTs are shock resistant to 1,000 Gs and vibration resistant to 30 Gs.
---
Original Press Release:

Linear Displacement Transducer with SSI Output and Mill Duty Housing for High Durability and Performance



New AMETEK/Gemco 953VMax meets the most demanding OEM and retrofit automation applications

Two new performance options have been introduced for the GEMCO 953S Series VMax Linear Displacement Transducers (LDT) from AMETEK Automation & Process Technologies (www.ametekapt.com):
· High resolution Synchronous Serial Interface (SSI) output allows the LDT to measure tighter tolerances over longer cable runs.
· Mill Duty housing protects the LDT from physical and environmental damage in the most extreme conditions and adds mounting flexibility for higher production efficiency.

Applications include:
· Steel mills
· Tire & Rubber
· Metal stamping, roll-forming and die-casting
· Injection molding and extrusion
· Hydro power
· Material handling machinery

The fully digital VMax LDT offers accurate and reliable absolute position indication with high resolution and precision repeatability. The SSI output overcomes the limitations of analog LDTs by offering up to 1 micron resolution and a stable position feedback for cable runs up to 365 m (1,200 feet) from the host controller.

It is ideally suited for the most demanding process automation applications, such as steel mills and tire and rubber manufacturing, providing unmatched reliability and durability regardless of environment. It is shock resistant to 1,000 Gs, vibration resistant to 30 Gs and IP68 rated.

The series 950 Mill-Duty Housing protects the LDT from temperature, corrosives, shock, vibration, dust and debris. Additionally, it offers a simple two point mounting scheme that can compensate for lateral and / or horizontal movement of the machine while in operation.

The 950MD housing allows easy retrofitting of existing cylinders. Mounting parallel to the cylinder eliminates the need to tear down and gun drill the cylinder, reducing replacement downtime from as much as two days to as little as 45 minutes. The Mill-Duty Housing is available in lengths from 5.08 cm (2 in) to over 6.1 m (20 ft).

Easy to install and set up, the LDT features the latest generation of magnetostrictive position-sensing technology. Numerous configurations are available to meet specific end user requirements.

[following paragraph for Latin America]
AMETEK has recently named Daniel Souza as Latin American Sales Manager for its Sensor Technologies business. Mr. Souza, who has more than ten years' experience in electronic instruments, is located in Sao Paulo.

[following paragraph for Asia]
AMETEK has recently named Frank Yu as China Country Manager for its Sensor Technologies business. Mr. Yu has more than ten years' experience in the oil & gas, chemical and power industries. He is based in Shanghai.

AMETEK Automation & Process Technologies is a leader in continuous linear and rotary position sensing and level gauging. It is a unit of AMETEK, Inc., a leading global manufacturer of electronic instruments and electric motors with annual sales of more than US$3 billion.

Product Sales Contact:
Latin America
Daniel Souza
Tel 19 3517.2116
daniel.souza@ametek.com

Asia
Frank Yu
Tel +86-21-5868-5111
Frank.Yu@ametek.com.cn
www.ametek.com.cn

More from Cleaning Products & Equipment