Linear Displacement Potentiometers suit harsh environments.
Press Release Summary: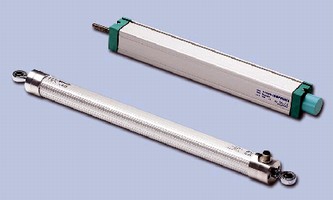 Featuring IP67 rating, Models LT67, PC67, PZ67-A, and PZ67-S can be installed in environments where resistance to dust, or temporary resistance to liquid immersion, is required. Model PC67 offers stroke lengths from 50-750 mm and features M12, 4-pole electrical connector. With stroke lengths from 25-300 mm, Model PZ67-S features M12, 4-pole connector and Model PZ67-A has M18, 3-pole connector. Model LT67 provides stroke lengths from 50-900 mm and is suited for plastics processing applications.
---
Original Press Release:

Gefran Announces IP67-Rated Linear Potentiometers for Harsh Environments, Extended Warranty & Design Enhancements for Its LT Series Potentiometers



FEATURED AT PACKAGING EXPO!

Winchester, MA, November, 2006 - - - Gefran, a leading manufacturer of sensors and control instrumentation for process automation and control, announces a new group of linear displacement potentiometers suitable for use in harsh environments, as well as an extended warranty and several design enhancements to its well known LT linear displacement potentiometer.

Addition of the LT67, PC67, PZ67-A and PZ67-S models with IP67 rating expands Gefran's ability to meet a wide range of position measurement and installation requirements. Patent pending innovations make it possible to install these well-known potentiometer designs into environments where complete resistance to dust, or temporary resistance to the effects of liquid immersion (to a depth of 1 meter), is required. Gefran has also made enhancements to better protect the potentiometer against damage caused by the external formation of ice on the displacement rod.

A patent-pending sealing system has strengthened the PC Series' structure, providing greater durability and reliability in the harshest environments. Model PC67 provides standard stroke length options from 50...750mm and features an M12, 4-pole electrical connector. A self-aligning ball-joint located at each end of the shell allows easy installation.

A high protection level and very small size make Models PZ67-A and PZ67-S unique in terms of reliability and flexible installation. Model PZ67-S features an M12, 4-pole electrical connector and installs using standard mounting brackets, while the Model PZ67-A features an M18, 3-pole connector and is installed using the self-aligning ball-joint located at each end of the shell. Both models offer standard stroke length options from 25...300mm.

Gefran's new IP67 rated Model LT67 is ideal for plastics processing applications with installation in areas highly exposed to lubricants. A mounting channel has been added to the cap on the rod-end for applications that require the potentiometer to be installed vertically with the rod-end positioned up. Four holes positioned around the rod have been added to the end-cap to direct water away from the rod and into the new mounting channel. This new design ensures liquid does not migrate into the shell where it will interfere with proper electrical operation and/or cause permanent damage to the device.

All LT models are available in standard stroke length options from 50...900mm and feature an M12, 4-pole electrical connector. The LT potentiometers can be installed using traditional mounting brackets or the new c-channel along the length of the shell's bottom surface.

In addition to adding an IP67 rated model, Gefran has made several internal design modifications to the LT Series that result in less wear-and-tear of the wipers and track, and reduce the effects of vibration and shock. These enhancements have enabled the company to extend its product guarantee, providing users with a two-year warranty against product-related defects.

ABOUT GEFRAN
GEFRAN was founded in the 1970s. Today, the GEFRAN Group is a leading supplier in the field of automation and process control of plastics processing machinery for extrusion and injection molding.

GEFRAN ISI Inc., located in Winchester, Massachusetts, is the group's North American headquarters and manufacturing base. Formerly Industrial Sensors Inc. (ISI), the company joined the GEFRAN Group in 1999 bringing more than 25 years of expertise in the development and manufacturing of melt pressure transducers and instrumentation for extrusion processing. GEFRAN SPA is located in Italy and is the GEFRAN Group's headquarters and primary manufacturing facility. Manufacturing operations in both France and Brazil, and GEFRAN companies in Germany, UK, Switzerland and The Netherlands support GEFRAN SPA.

Today, GEFRAN manufactures complete control systems as well as components such as temperature and pressure indication and control instrumentation; temperature, position, melt and industrial pressure sensors; solid-state relays; humidity sensors and load cells. In addition to plastics processing, GEFRAN's instruments and integrated systems are used in a wide range of industrial automation and process control applications. With its July 2003 acquisition of Siei, a leading manufacturer of motion control products, the GEFRAN Group now employs more than 700 people and has yearly sales of about $130 million dollars worldwide.

CONTACTS - Reader/Editorial:
Mark Caldwell, phone 781-729-5249 or email mcaldwell@gefranisi.com;