Linear Couplings compensate for component misalignment.
Press Release Summary: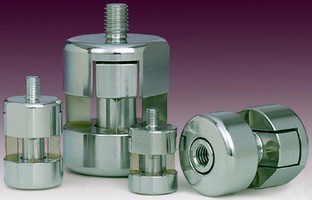 Exhibiting zero axial backlash under all operating conditions, Linear Coupling absorbs parallel misalignment up to 0.7 mm and angular misalignment up to 1.5° through its spring system made of spring steel. Maintenance-free couplings have aluminum components and are rated for infinite life if operated within performance limits. Linear motion control devices have compact design and are typically used with linear actuators, motors, and precision guide rods.
---
Original Press Release:
Axial Precision Achieved with Linear Couplings
(Vadnais Heights, Minn. - (April 10, 2006) Nexen Group, Inc., is proud to announce their newest linear motion control device, the Linear Coupling. The Nexen linear coupling has a patented high capacity spring system that absorbs parallel misalignment up to 0.7 mm and angular misalignment up to 1.5 degrees. It has zero axial backlash under all operating conditions and is virtually maintenance free. The connection of linear actuators, motors, positioning sensors, and electric and pneumatic cylinders to other driven elements is critical. A high degree of angular and parallel alignment is required to prevent binding or wear, while preventing backlash. Nexen's Linear Couplings compensate for component misalignment, while providing a high degree of precision. Key features and benefits of Nexen's Linear Couplings include: · Zero backlash in axial direction · Compensates angular misalignments up to 1.5° and lateral misalignments up to 0.7 mm [0.028 in] · Low mass & weight = low inertia · Compact design · Designed for high tensile and compressive forces in highly dynamic applications · Coupling components made from high strength aluminum · Spring elements are made of a special spring steel · Have an infinite life and are maintenance free if operated within performance limits Coupling components are constructed with high strength aluminum and spring elements are made from special spring steel. Nexen Linear Couplings are typically used with linear actuators, motors, and precision guide rods. The Nexen Linear Coupling can be used in a wide variety of precise linear motion applications, and is ideal as a replacement for actuator rod ends. Linear motion applications include: machine tool, gantry systems, robotics, automation equipment, and packaging. Nexen is a leading manufacturer of brakes, clutches, servo motor and linear motion brakes, torque limiters, and web tension control systems for a variety of industrial applications ranging from motion control and robotics to packaging and material handling. With headquarters in Vadnais Heights, Minn., Nexen has sales offices throughout the United States, Europe, Japan, Mexico, and Australia with more than 1,500 distributor sales outlets. For more information on Nexen's line of linear motion control products, contact: Sarah Niosi Marketing Communications 560 Oak Grove Parkway Vadnais Heights, Minn. 55127 651/286-1054 www.nexengroup.com
More from Mechanical Power Transmission