Linear Controller facilitates offline LED lighting design.
Press Release Summary: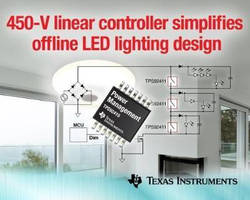 Integrating multiplier and tunable phase dimmer detection, as well as analog dimming inputs and drive circuit protection functions, Model TPS92410 eases design of downlights, fixtures, and lamps powered from offline AC or conventional DC power source. Operating over 9.5–450 V input voltage range, controller functions as standalone high-voltage LED string current regulator or pairs with TPS92411 floating switch to provide power in mains AC linear direct drive applications.
---
Original Press Release:

TI's New 450-V Linear Controller Simplifies Offline LED Lighting Design



High-voltage current controller for downlights and fixtures dims with microcontrollers and standard wall dimmers



DALLAS, – Texas Instruments (TI) (NASDAQ: TXN) today introduced a 450-V linear controller that simplifies current regulation of high-voltage LED strings. The TPS92410 controller integrates a multiplier and tunable phase dimmer detection, as well as analog dimming inputs and drive circuit protection functions to ease design of downlights, fixtures and lamps powered from an offline AC or conventional DC power source.  For more information, samples and evaluation modules, visit www.ti.com/tps92410-pr.



The TPS92410 operates over a wide 9.5-V to 450-V input voltage range and functions as a standalone high-voltage LED string current regulator or pairs with TI's TPS92411 floating switch to provide power in mains AC linear direct drive applications. Together, the TPS92410 and TPS92411 feature driver and LED circuit protection while providing an inductor-free, low LED current ripple lighting solution. The TPS92410 includes an analog dimming input pin with LED shutoff to provide easy light intensity control in intelligent, MCU-based light fixtures using the ultra-low-power MSP430F5172 microcontroller or SimpleLink™ ZigBee® CC2530 wireless MCU.



Key features and benefits of TPS92410



AC and DC applications

--  Under-voltage lockout, MOSFET over-voltage protection and thermal foldback prevent driver and LED damage during fault conditions.



AC applications with TPS92411

--  Compatible with legacy TRIAC and reverse phase dimmers in AC mains powered LED lighting applications.

--  On-chip, internal multiplier produces very high power factor correction at greater than 0.95 with within plus or minus three percent line regulation.



About TI's floating switch architecture

TI's award-winning floating switch architecture achieves low LED current ripple performance which is comparable to switch mode power supply (SMPS) designs.  The TPS92410 and TPS92411 require no inductive components for power transfer, eliminating cost and bulk, as well as simplifying the design.



Availability, packaging and pricing

Available now in volume from TI and its authorized distributors, the TPS92410 is offered in a 13-pin SOIC package and is priced at US$0.65 each in 1,000-unit quantities.



LED lighting tools and support



--  The 120-V TPS92410EVM-001 and 230-V TPS92410EVM-002 light engine evaluation modules are available at US$99.00 each.

--  Download the 120V or 230V TPS92410 design calculator tool to get help selecting external components.

--  Predict LED current ripple with the TPS92410 PSpice transient model.



Find out more about TI's LED lighting portfolio

--  Get more information on all of TI's lighting products.

--  Design a complete LED power management system with TI's WEBENCH® LED Architect.

--  Search for solutions, get help and share knowledge in the LED driver forum in the TI E2E™ Community.

--  Download an LED reference design from TI's PowerLab™ Reference Design Library.



About TI's LED lighting solutions

From the glow on your smartphone display to brighter car headlights, TI's technology drives LEDs in applications to illuminate your path, life and world. Extensive portfolio includes AC/DC, DC/DC, LED drivers, power management devices, wireless and wired interface control and embedded processors for general lighting, signage, backlighting and automotive applications.



About Texas Instruments

Texas Instruments Incorporated (TI) is a global semiconductor design and manufacturing company that develops analog ICs and embedded processors. By employing the world's brightest minds, TI creates innovations that shape the future of technology. TI is helping more than 100,000 customers transform the future, today. Learn more at www.ti.com.



Trademarks

WEBENCH is a registered trademark and TI E2E and PowerLab are trademarks of Texas Instruments. All other trademarks belong to their respective owners.



Web Site: http://www.ti.com



More from Agricultural & Farming Products