Linear Bushings work in one-armed robots.
Press Release Summary: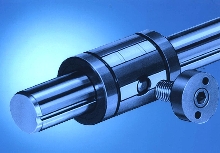 STAR Torque-Resistant Linear Bushings are suitable for applications requiring shaft guideway to transmit both linear motion and torque while remaining torsionally stiff, such as one-armed swivel grippers or robots. Bushings can be installed without parallel second shaft normally required in standard applications to resist cocking loads. They are available in rotationally symmetrical sleeved or flanged designs, with solid or tubular shafts.
---
Original Press Release:
STAR Torque-Resistant Linear Bushings For Special Applications

STAR Torque-Resistant Linear Bushings from Bosch Rexroth were designed specifically for applications requiring a shaft guideway to transmit both linear motion and torque while themselves remaining torsionally stiff. Applications of this kind include handling units like one-armed swivel grippers or robots.

Unlike Standard Linear Bushings, Torque-Resistant Linear Bushings can be installed without the parallel second shaft normally required in standard applications to resist cocking loads.

Torque-Resistant Linear Bushings are available in rotationally symmetrical sleeved or flanged designs. In addition to solid shafts, tubular shafts are also available. These can be used to accommodate vacuum hoses or signal cables. The shaft ends are machined in-factory to customer specifications for integration into adjoining structures. In applications with stationary shafts, the advantage of the product is that the shafts must be supported at the ends only, with equally simple requirements on the mounting base.

The Rexroth units transmit torque levels from 1 Nm to 3,180 Nm in eleven different sizes with shaft diameters ranging from 4 mm to 50 mm. The radial load capacity lies between 1,220 N and 74,200 N.

Bosch Rexroth Corporation, a merger of Bosch Automation Technology and Rexroth, is a wholly owned subsidiary of Robert Bosch GmbH. In the year 2000 the separate companies had total revenues of approximately $3.56 billion (3.78 billion Euros) and a worldwide total of around 26,000 employees. Divisions include Industrial Hydraulics, Electric Drives and Controls, Linear Motion and Assembly Technologies, Pneumatics, Service Automation and Mobile Hydraulics. Bosch Rexroth - The Drive & Control Company - offers comprehensive solutions for drives and motion control in 80 countries around the world.

Bosch Rexroth Corporation
Kevin Gingerich
816 E. Third Street
Buchanan, MI 49107
Telephone (616) 697-5295 Fax (616) 695-5363
kevin.gingerich@boschrexroth-us.com

Bosch Rexroth Corporation,
Claudia Hoefer, Corporate Communications
5150 Prairie Stone Parkway,
Hoffman Estates, IL 60192,
www.boschrexroth-us.com

Godfrey Public Relations
Mike Randazzo
2890 Hempland Road
Lancaster, PA 17601
Telephone (717) 393-3831 ext. 127 Fax (717) 393-1216
mrandazzo@godfrey.com

More from Services