Linear Actuators offer built-in force sensing option.
Press Release Summary: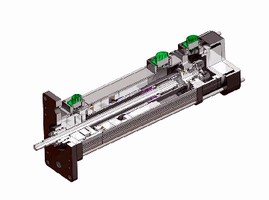 Employing planetary roller screw technology, GSX and I Series electro-mechanical actuators feature embedded load cell, offering direct method for obtaining electronic data relating to force being applied by actuator. Load cell is strain gauge type, providing ±1% linearity and ±0.5% repeatability and hysteresis. Separate connector is supplied for interfacing load sensor to external strain gauge conditioner/amplifier, which is required to excite strain gauge sensor.
---
Original Press Release:
Exlar GSX and I Series Actuators with Force Sensing Option
Chanhassen, MN - April 3, 2008 - High torque, long life Exlar linear actuators now have a built-in force measuring option. Exlar is extending the capabilities of its high torque, long life Exlar GSX and I Series of electro-mechanical linear actuators with the introduction of an integral force measuring option. Force measuring is achieved by means of a load cell embedded within the actuator. This option offers a direct method for obtaining electronic data relating to the force being applied by the actuator. The strain gauge load sensor is mounted inside the actuator's case in a compact and protected robust design. The integrated load cell option is available on Exlar's GSX30, 40, 50 and 60 models, and the I Series 30 and 40 model actuators. The load cell is a strain gauge type, offering stable and accurate load sensing (+/- 1% linearity, +/- 0.5% repeatability and hysteresis) in compression and optionally tension, and for static or dynamic loads. The force measuring option is provided with a separate connector for interfacing the internal load sensor to an external strain gauge conditioner/amplifier required to excite the strain gauge sensor. In addition, Exlar offers strain gauge conditioners to provide a high level signal, either 0 - 10V or 4-20mA output, for monitoring of the output signal, which are compatible with most standard PLC analog input cards and signal conversion modules. Alternatively, any one of numerous PLC strain gauge input cards or separate strain gauge conditioners/amplifiers on the market can be used. The GSX and I Series actuators in which the force measuring option is available both employ Exlar's planetary roller screw technology. For the last 18-years, this has been the integral component in creating the most reliable, long lasting electro-mechanical actuators on the market, providing a long-life, all-electric replacement for hydraulic cylinders in thousands of applications world-wide. The GSX actuators also benefit from Exlar's T-LAM(TM) technology, a segmented lamination stator design that enables 35% more continuous motor torque to be provided from the same frame sizes as competitive products, with no cost premium. The brushless servo design of the GSX series linear actuators allows them to be used in state-of-the art closed loop servo systems where electronic control of positioning and velocity is required. The robustness, precision and reliability of the GSX and I series actuators mean that they are suitable for use in many demanding applications including, fastening and joining riveting, bag sealing, thermoforming, injection molding, precision pressing, clamping, tension control, welding, tube bending, wire winding, dispensing, testing, filling - and many more. Exlar Corporation designs, manufactures and sells linear and rotary motion products worldwide. For general product information, contact Exlar Corporation, 1470 Lake Drive West, Chanhassen, MN 55317, phone 952-368-3434, and fax 952-368-4359. Visit our website at www.exlar.com.
More from Machinery & Machining Tools