Linear Actuators come in slider and rod types.
Press Release Summary: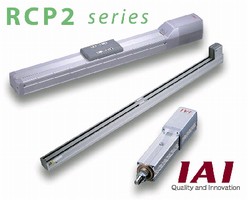 Offering alternative to air cylinders, 24 V Series RCP2 ROBO Cylinders are servo-controlled, pulse motor type actuators that convert revolutions of electrical motor to linear motion force. AQ seals supply lubricating oil during operation to ensure maintenance-free period of up to 3,100 miles, while servo standby modes and automatic servo off modes provide energy savings. Actuators use same mounting brackets as traditional air cylinders, facilitating conversion.
---
Original Press Release:

NEW- IAI Launches New Low Maintenance And Energy Efficient ROBO Cylinder RCP2 Series Actuators As Alternative To Air Cylinders



IAI launched its state of the art high performance line of ROBO Cylinders with a full range of new design features for improved performance, specifically to significantly reduce maintenance and energy costs compared to traditional air cylinders.

ROBO Cylinders are an excellent alternative to air cylinders for several key reasons. Firstly, all ROBO Cylinder actuators are fitted with AQ seals that supply lubricating oil during operation to ensure a long maintenance free period of up to 5000km (3,100 miles). Secondly, the ROBO Cylinders use the same mounting brackets as those used on traditional air cylinders, which makes the conversion from air cylinders to ROBO Cylinders very easy. Thirdly, ROBO Cylinders convert the revolutions of the electrical motor to linear motion force thus reducing operating costs. The newly created servo standby modes and automatic servo off modes are also energy saving systems that then ultimately combine to reduce operating costs by 70% to 90%.

The RCP2 series actuator is a servo controlled 24-volt pulse motor type that is available in Slider or Rod types. They use the PCON single axis position controller and the PSEL 1 or 2 axis type program controller. The pulse motor cylinder is ideal for push-motion operation, where the high thrust at low speed characteristics are maximized. Further options of Motor Coupling, Motor Reversing or Belt drive types are also available. The user can select from 5 different PCON controller types and 6 different mode types with the PSEL controller.

Technical CAD drawings, PDF files and data sheets detailing the measurements and specifications of each ROBO Cylinder actuator and its associated position and program controllers are available for download at www.intelligentactuator.com or by requesting the new ROBO Cylinder printed Catalog.

About IAI America
IAI is a member of the RIA, SEMI, and AHTD organizations. IAI Manufacturers a full range of IX Scara Robots, Linear Actuators, ROBO Cylinders, Table Top Robots, Controllers, Cartesian Robots, Single Axis Robots, and Linear Positioners.

The ROBO Cylinder brand includes a full range of controller-integrated, Slider, Rod, Arm, Flat, Dust Proof, Splash Proof and Cleanroom Type actuators with options for 24V or 200V motors with position and program controllers for 1 or 2 axis types.

IAI is ISO 9001 certified and ISO 14000 certified, and its products conform to European RoHS directives.

For more information, please contact IAI at 800 736 1712 or visit www.intelligentactuator.com email ajimenez@iaius.com Contact Antonio Jimenez.


More from Robotics