Linear Actuator positions small loads.
Press Release Summary: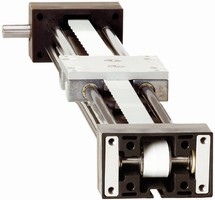 Available in 2 configurations, DryLin ZLW lightweight, toothed-belt linear drive is constructed with hard-anodized aluminum profile, DryLin® W compact linear guide with round shafts, iglide® J plastic sliding elements, and plastic end blocks. Model ZLW 01 features plain plastic bearings and eliminates need for external lubrication, while Model ZLW 02 is designed for high-speed applications of up to 20 ft/sec.
---
Original Press Release:

Igus Enters the Linear Actuator Arena with the Debut of DryLin ZLW



Company's comprehensive line of linear guide systems expands
to include its first-ever toothed-belt linear drive

EAST PROVIDENCE, R.I. - October 26, 2006 - Igus® Inc., the leading developer of iglide® plastic bearings, igubal® spherical bearings and DryLin® linear guide systems, today announced the availability of the company's first linear actuator. New DryLin ZLW is a lightweight, toothed-belt linear drive equipped with a hard-anodized aluminum profile, a DryLin W compact linear guide and iglide plastic sliding elements. Now customers have the option of a maintenance-free, self-lubricating, lightweight actuator when designing a linear drive system.

DryLin ZLW is ideal for quickly positioning small loads and can be employed in a number of industries from packaging to medical technology to food and beverage.

DryLin ZLW is available in two configurations: ZLW 01 for zero maintenance, absolutely no external lubrication and a lightweight, cost-effective design; and ZLW 02 designed for applications requiring high speeds. A compact miniature version of DryLin ZLW 01, which only weighs 2 pounds per every 3 feet, is also available. All designs are equipped with the following components:

o a hard-anodized aluminum profile;
o a DryLin W, single-profile compact linear guide system with round shafts;
o plastic sliding elements made of iglide J high-performance plastic; and
o plastic end blocks.

DryLin ZLW 01 is equipped entirely with plain plastic bearings. In addition to the iglide J sliding elements, iglide L250 radial bearings and iglide J thrust washers are used in the pulley mechanism in the end blocks. The design eliminates the need for any oil or grease, as all iglide plastics self-lubricate with a dry lubricant. DryLin ZLW 02 is designed for high-speed applications, up to 20 feet per second. Both series are designed to be lightweight, quiet and economical, adding to the list of benefits for customers.

"DryLin ZLW, igus' first linear actuator, is an impressive addition to the DryLin product line," said Matt Mowry, DryLin product manager for igus. "It combines the maintenance-free, lightweight and lubrication-free features of iglide plastic bearings with the speed and compactness of DryLin W linear guide systems, enabling the mechanism to deliver superior, worry-free performance. Customers now have the opportunity to use this cutting-edge linear actuator for a variety of applications in packaging, material handling and many others."

About iglide

Iglide plastic bearings are a cost-effective alternative to metal or ball bearings. Iglide bearings will not corrode and are wear-resistant, chemical-resistant and long lasting. They are available in 20 high-performance material blends, in more than 7,000 sizes and styles from stock. Iglide J incurs little to no wear on a variety of shaft materials and delivers excellent vibration dampening. Iglide L250 has an exceptionally high service life and operates at extremely high speeds.

About DryLin W

DryLin W linear guide systems are part of the DryLin suite of linear bearings and slides with plastic guide elements. It is available in multiple rail configurations and styles and is low-cost, extremely compact and easy to install. As with all DryLin bearings and slides, DryLin W also is lightweight, self-lubricating and maintenance-free.

To learn more about DryLin ZLW, please contact an igus design technician at (888) 803-1895 or visit igus at Pack Expo October 29-November 2, 2006, booth #S-1379 at McCormick Place in Chicago, Ill.

About igus

Igus Inc., founded in 1985 and based in East Providence, R.I., develops and manufactures industry-leading plastic cable carriers, continuous-flex cables, plastic bearings and linear guide systems. With more than 28,000 products available from stock, the company meets the motion control and machinery component needs of customers worldwide. Product lines include Energy Chain Systems® to protect and house moving cables, Chainflex® continuous-flex cables, iglide self-lubricating, oil-free, plastic bearings, DryLin linear guide systems and igubal® spherical bearings. For more information, contact igus at (888) 803-1895 or visit www.igus.com.

For more information contact:
Courtney Toomey
igus Inc.
(401) 438-7270
ctoomey@igus.com

More from Electrical Equipment & Systems