Linear Actuator is available with strip seal cover option.
Press Release Summary: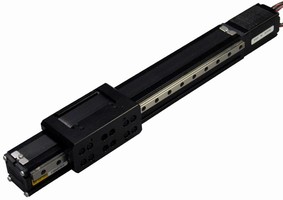 Available in LP28 and LD28 models, PROmech(TM) series comes completely assembled with linear bearings, drive screw, thrust bearings, motor mount, coupling, and motor. Cover seal, also included, protects screw from particulate matter and other debris to lengthen product life. While both pre-engineered positioning packages have 28 x 28 mm cross section, LP28 is suited for positioning payloads up to 20 lb, and LD28 linear thrusting mechanism suits jobs requiring 10 lbs of thrust or less.
---
Original Press Release:

Parker Introduces Cover Seal for the PROmech(TM) Series Linear Actuators



IRWIN, PA, October 24, 2007 - Parker's Electromechanical Automation Division, a leading supplier of motion control technology, announces the release of a cover seal for the PROmech(TM) series linear actuators. The new cover seal protects the screw from particulate matter and other debris, resulting in longer product life, a cleaner running solution and an aesthetically appealing design. The PROmech series is now a more well-rounded solution for light industrial OEM applications with more protection than ever.

Available in two models, the LP28 and the LD28, PROmech series actuators are designed for OEM instrument manufacturers working to speed their time to market and reduce the overall installed cost for linear motion axes. In addition to the new strip seal option, the actuators come completely assembled and tested and include linear bearings, drive screw, thrust bearings, motor mount, coupling and motor.

Because PROmech series actuators are a pre-engineered positioning package, OEMs can significantly reduce their time to market with minimized design, procurement, assembly, and qualification of all the parts necessary to build a linear motion axis from scratch. Moreover, OEMs can significantly reduce manufacturing costs and assembly time with preassembled PROmech Series actuators. With build-it-yourself linear axes, all the different parts required to build the axes must be ordered, tracked, received, inventoried, assembled and tested. The PROmech series is a pre-tested, single-piece solution. Both the LP28 and the LD28 have a miniature cross section of only 28 mm x 28 mm and now come with a cover seal for added environmental protection. The new strip seal option adds just 17 mm in overall length due to the carriage design, but adds no overall width or height, thus maintaining a compact footprint that allows OEMs to make the most of their machine space.

The PROmech series LP28 and LD28 linear positioners are complete linear motion solutions OEMs can afford to design into their high-volume equipment. With a travel range from 5 mm to 500 mm, the LP28 has several linear bearing options and a variety of screw-lead and motor-size options to easily match the positioner to the application requirements. The LP28 may also be fitted with an optional strip seal and home and limit sensors. This compact positioner is ideal for positioning payloads up to 20 lbs.

The PROmech LD28 is a linear thrusting mechanism for applications requiring 10 lbs of thrust or less in a compact package. It also has a variety of screw lead and motor size options to easily match the actuator to an applications speed and thrust requirements.

For more information on the PROmech series linear actuators and the new strip seal cover option, please call 800-245-6903 or visit www.parkermotion.com/promech and download either the LP28 or LD28 catalogs.

About Parker Electromechanical Automation A division of Parker Hannifin Corporation's Automation Group since 1987, Electromechanical Automation is a pioneer, developer and manufacturer of full-spectrum computer-based motion controllers, servo/step motor drives, servo motors and human-machine interfaces, positioning systems, gear heads and gear motors. These products automate the manufacturing of a significant fraction of the world's goods and services. Electromechanical Automation products are sold via independent authorized Automation Technology Centers - a group of nearly 100 professional, highly trained organizations with more than 135 points- of-presence throughout the world-or buy directly from Electromechanical Automation by logging on to buy.compumotor.com. An informative and up-to-date Web site with downloadable libraries, tutorials, and background information on motion control and automation is located at:
www.parkermotion.com.

About Parker Hannifin
With annual sales exceeding $10 billion, Parker Hannifin is the world's leading diversified manufacturer of motion and control technologies and systems, providing precision-engineered solutions for a wide variety of commercial, mobile, industrial and aerospace markets. The company employs more than 57,000 people in 43 countries around the world. Parker has increased its annual dividends paid to shareholders for 51 consecutive years, among the top five longest-running dividend-increase records in the S&P 500 index. For more information, visit the company's web site at www.parker.com, or its investor information site at www.phstock.com.

More from Controls & Controllers