Linear 3.3 V Hall-Effect Sensor IC comes in miniature package.
Press Release Summary: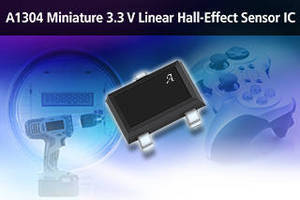 Intended for applications requiring medium accuracy in small package, A1304 eliminates need to program device to compensate for temperature effects on sensor performance. Sensitivity and QVO TC are blind blown (trimmed) at factory for optimal accuracy, and programmable sensitivity level is 4 mV/G ±6% typ. Fabricated in BiCMOS monolithic process, product integrates Hall element, offset and sensitivity trim circuitry, small-signal high-gain amplifier, and dynamic offset cancellation.
---
Original Press Release:

Allegro Microsystems, LLC Introduces a New Miniature, 3.3 V Linear Hall-Effect Sensor IC



Designed for Medium Accuracy over an Industrial Temperature Range



Worcester, MA — Allegro MicroSystems, LLC introduces a new linear, Hall-effect sensor IC specifically designed for applications that require medium accuracy in a very small package. Allegro's A1304 is a factory trimmed one-time programmable (OTP-ROM) 3.3 V linear Hall-effect sensor integrated circuit that eliminates the need for customers to program the device to compensate for temperature effects on sensor performance. This new device has been specifically designed for both consumer and industrial markets, and consequently supports an industrial temperature range of -40 to 85°C.



Allegro's A1304 has a typical programmable sensitivity level of 4 mV/G +/-6%. Sensitivity and QVO TC are blind blown (trimmed) at the factory for improved accuracy relative to other low cost linear IC's from Allegro (A1301/02). A1304 device complements Allegro's existing OTP-ROM linear Hall-effect product line by providing a more cost-effective solution for non-automotive markets. The A1304 circuit, fabricated in a BiCMOS monolithic process, integrates a Hall element, offset and sensitivity trim circuitry to correct for the variation in the Hall element, a small-signal high-gain amplifier, and a proprietary dynamic offset cancellation technique. This temperature-stable, ratiometric Hall-effect sensor provides a voltage output that is proportional to the applied magnetic field and features a quiescent voltage output of 50% of the supply voltage.



The A1304ELHLX-T sensor IC is available in a 3-pin miniature surface mount SOT-23W style package (LH suffix). The package is lead (Pb) free, with 100% matte tin leadframe plating.  It is priced at $0.47 in quantities of 1,000.



Allegro MicroSystems, LLC is a leader in developing, manufacturing and marketing high-performance semiconductors. Allegro's innovative solutions serve high-growth applications within the automotive market, with additional focus on office automation, industrial, and consumer/communications solutions. Allegro is headquartered in Worcester, Massachusetts (USA) with design, applications, and sales support centers located worldwide. Further information about Allegro can be found at www.allegromicro.com.



Contact information: Stephanie Fennelly, Allegro MicroSystems, P.O. BOX 15036, Worcester, MA 16150036

More from Packaging Products & Equipment