Line Of Reagents Available From Wilkens-Anderson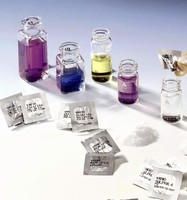 Chicago, IL - Wilkens-Anderson offers a line of DPD Powder Pack Reagents for chlorine water analysis. The line of powder reagents are pre-measured unit doses specifically formulated for use in Hach® colorimeters, spectrophotometers and test kits. This line features a low cost per test, is USEPA approved and is available for either free or total chlorine. The DPD Powder Pack Reagents are available in 100 or 1,000 count packages and in 5mL, 10mL and 25mL sample sizes.

For more information contact Wilkens-Anderson Co., 4525 W. Division Street, Chicago, IL 60651. Phone: 773-384-4433. Fax: 773-384-6260. E-mail: waco@wacolab.com, website: www.wacolab.com.


More from Sensors, Monitors & Transducers