Line Leakage Tester performs 8 different tests.
Press Release Summary: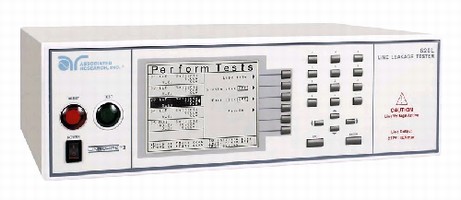 Operating as stand-alone unit or as part of test system, Model 620L offers Hipot, ground bond, power source, and scanner interconnection capabilities. When configured with optional Run Test features, unit can also monitor min and max readings for voltage, current, Watts, power factor, and leakage current. It includes graphic LCD and intuitive menu system, 50 memories with 30 steps/memory, up to 40 A max continuous DUT current, and RS-232, GPIB, or Ethernet interfaces.
---
Original Press Release:

New Line Leakage Tester From Associated Research, Inc.



New Line Leakage Tester with Hipot, Ground Bond, Power Source and Scanner interconnection capability

Lake Forest, Illinois, February, 2007 - The 620L is a fully automated Line Leakage tester that is able to perform 8 of the most commonly required Line Leakage tests with the common measuring devices already incorporated into the instrument. The 620L, when configured with an optional Run Test feature, can also monitor minimum and maximum readings for Voltage, Current, Watts, Power Factor, and Leakage Current. The 620L offers flexibility as a stand alone tester or as part of a test system when interconnected to any Associated Research Hipot or Ground Bond tester. Test operators can easily add Line Leakage testing functionality onto their existing test system providing a complete Line Leakage test system to a broad range of testing applications. The 620L may also be interconnected with the AC1000 Power source to provide clean power to the DUT and allow for full adjustment of DUT input voltage. For automated control of applied part test points, the 620L may be combined with the SC6540 modular scanning matrix. Lastly, RS-232, GPIB, or Ethernet communication interfaces allow for the automated control of the instrument.

Model 620L features:
Graphic LCD and intuitive menu system to simplify the entire testing process
Leakage current readings that can be monitored using both PEAK and RMS measurements
50 memories with 30 steps per memory
RS-232, GPIB, or Ethernet Communication interfaces
Up-to 40 Amps maximum continuous DUT current
Leakage offset feature for applications using fixtures
Optional cold resistance measurement capability
Patented CAL-ALERT and VERI-CHEK features

For more information visit them online at www.asresearch.com

Founded in 1936, Associated Research, Inc. is a worldwide leader in electrical safety compliance testing instruments. For editorial questions, please respond to Jim Kenesie at jimk@asresearch.com. Contact the company at:
13860 W. Laurel Drive
Lake Forest, IL 60045
Toll Free: 1-800-858-8378
Phone: 1-847-367-4077
Fax: 1-847-367-4080
Email: info@asresearch.com
Web: www.asresearch.com

More from Optics & Photonics