Line-Haul Steer Tire features durable, fuel-efficient casing.
Press Release Summary: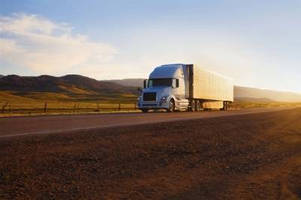 With casing designed for endurance and fuel efficacy, SmartWay®-verified MICHELIN® X® Line™ Energy Z features dual-energy compound tread. Top layer controls tread stiffness and stress to reduce irregular wear; decoupling grooves and directional miniature sipes promote even tire wear. Bottom layer provides ultra-fuel efficiency and retreadability to minimize internal casing temperatures for minimized rolling resistance and extended casing life.
---
Original Press Release:

MICHELIN Launches Latest Version of its Industry-Leading Line-Haul Steer Tire



MICHELIN X Line Energy Z guarantees 20 percent more mileage than leading competitors (1)



GREENVILLE, S.C. -- Michelin Americas Truck Tires, a division of Michelin North America, Inc., is launching the MICHELIN® X® Line™ Energy Z for line-haul steer applications. The SmartWay®-verified tire is guaranteed to deliver 20 percent more mileage than leading competitor line-haul steer tires((1)), while also delivering 5 percent better rolling resistance than the MICHELIN® XZA3®+ tire it replaces((2)).  It features a new, ultra-fuel-efficient casing, so the improvement in rolling resistance follows the tire throughout its life -- from new to retread.



"Michelin is known for providing industry-leading mileage and even wear.  The MICHELIN X Line Energy Z continues that evolution, while also increasing fuel efficiency, so fleets get the best of both worlds." said Adam Murphy, vice president of marketing for Michelin Americas Truck Tires.  "Allowing fleets to get the most out of their line-haul steer tires is what the new MICHELIN X Line Energy Z tire is all about."



The MICHELIN X Line Energy Z features a patented dual-energy compound tread. The top layer controls tread stiffness and stress to reduce irregular wear. Decoupling grooves and directional miniature sipes promote even tire wear. The bottom layer provides ultra-fuel efficiency and retreadability to minimize internal casing temperatures for low rolling resistance and extended casing life.



Providing maximum retreadability and a casing designed for endurance, the MICHELIN X Line Energy Z comes with the 7/7/3 manufacturer's limited casing warranty((3)). This includes coverage against defects in workmanship and materials for 700,000 miles, seven years or three retreads from the date of manufacture when retreaded by an authorized Michelin Retread Technologies (MRT) dealer. The tire is available March 1 in 11R22.5, 275/80R22.5, 11R24.5 and 275/80R24.5 sizes in both G and H load ranges.



The MICHELIN X Line Energy Z steer tire can be combined with the following tires to offer a complete SmartWay line-haul solution -- bringing excellent mileage, even wear and fuel efficiency to every axle:

--  Dual Applications -- MICHELIN X Line Energy Z steer tire, MICHELIN X Line Energy D drive tire and MICHELIN X Line Energy T trailer tire.

--  Wide Base Applications -- MICHELIN X Line Energy Z steer tire, MICHELIN X One Line Energy D drive tire and MICHELIN X One Line Energy T trailer tire.



(1) See MichelinTruck.com/XLineEnergyZ for details.



(2) Based on internal rolling resistance tests using ISO28580 in tire size 27580R22.5.



(3) See limited warranty for details.



About Michelin

Dedicated to the improvement of sustainable mobility, Michelin designs, manufactures and sells tires for every type of vehicle, including airplanes, automobiles, bicycles, earthmovers, farm equipment, heavy-duty trucks and motorcycles. The company also publishes travel guides, hotel and restaurant guides, maps and road atlases. Headquartered in Greenville, S.C., Michelin North America (www.michelinman.com) employs more than 22,750 and operates 20 major manufacturing plants. To learn more about truck tires and services, visit www.michelintruck.com.



CONTACT: Mary Ann Kotlarich, Michelin North America, 864.458.4884, Mary-ann.kotlarich@us.michelin.com

More from Sensors, Monitors & Transducers