Lindberg/MPH Ships Two Pacemaker Furnaces to be Used for Carburizing and Hardening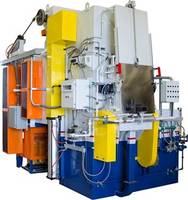 Riverside, MI – October 20, 2017 – Lindberg/MPH announced the shipment of two electrically heated Pacemaker integral quench furnaces. The Pacemaker IQ furnaces will be used for carburizing and hardening applications. These integral quench furnace systems provide a total solution for your heat-treating processes.
The Pacemaker furnaces have maximum temperature ratings of 1850°F, work chamber dimensions of 24" W x 36" D x 24" H, and feature upper atmosphere cooling chambers. A programmable control system provides full automation of the load and carbon control. The programmable logic controller also performs all data collection functions for process variables. Atmosphere carbon potential is controlled with automatically adjusting flowmeters and an oxygen probe. The equipment status screens are visible on the HMI screens.
The equipment drive mechanism pushes the workload into the furnace and performs a carburizing process under atmosphere. The workload is heated with robust low voltage Corrtherm heating elements which are well suited for a high carbon potential atmosphere. A discharge drive system pushes the workload out of the furnace and onto a quench elevator. The load is then either lowered into a preheated oil quench tank for fast, circulated cooling or is elevated for a slower atmosphere cool.
"Lindberg has manufactured over 1,000 similar Pacemaker units since the early 1960's. We offer both electrically heated and gas fired systems with a full range of companion equipment. Sizes range from a lab-sized 12" x 24" x 12" unit for 250 pound loads to our largest 48" x 72" x 36" furnace for 6,000 pound loads."- Bill St. Thomas, Business Development Manager
Unique features of these Pacemaker IQ furnaces include:
Full atmosphere and internal movement control through integrated PLC
Reliable snake chain pusher system
Automatically adjusting flowmeters and oxygen probe
Emergency nitrogen purge line
Intermediate insulated isolates heat chamber
Roller rail hearth
Oil and upper atmosphere quench
Quench tank agitation
Low iron brick insulation
Flame curtain to prevent air inclusion
Soft start variable frequency fan drive
Endothermic generator gas mixing system
Cast alloy, gas heated reaction retort
Air to gas atmosphere cooling system
Full supervisory control and SCADA system for heat treating furnace and atmosphere generator
Equipment supervision
Start-up service
Lindberg/MPH provided equipment installation supervision and equipment start-up by qualified technicians. For more information on the Pacemaker integral quench furnace line visit http://www.lindbergmph.com/heat-treat-furnaces/integral-quench-furnaces/integral-quenchfurnaces.
About Lindberg/MPH
Lindberg/MPH is a leading manufacturer of standard and custom industrial heat treat furnaces, including pit, box, IQ, and belt type for the ferrous and non-ferrous markets. Lindberg/MPH customers cover a wide range of industries including aerospace/military, automotive, commercial heat treating, energy/oil, electronics and the forging markets. Founded in 1917, the company has more than 75,000 industrial furnace installations worldwide and their equipment is backed by a full range of customer support services and the most extensive replacement parts inventory in the industry. Lindberg/MPH is a proven leader in the thermal processing industry, with a long track record of proven policies and management practices.
Lindberg/MPH is owned by Thermal Product Solutions ("TPS"), a leading American manufacturer of custom industrial ovens used for heat treating, finishing, drying, curing, manufacturing automation and process control. TPS is a global leader in thermal processing products and test solutions with brands including Baker Furnace, BlueM, Gruenberg, Tenney, Lindberg, Lunaire, MPH, and Wisconsin Oven. For more information on equipment solutions from TPS visit the website at www.thermalproductsolutions.com.
Related