Lindberg/MPH Ships Three Gas Fired Box Furnaces to the Oil and Gas Industry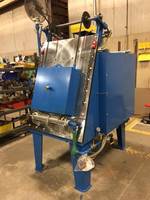 April 23, 2018 – Lindberg/MPH announced the shipment of three (3) natural gas fired box furnaces to a parts manufacturer for the oil and gas industry. The box furnaces will be used to develop process control requirements for heat-treating and stress relieving of underground mining/drill heads. These types of mining/drill heads only last a few hours to a few days depending on the composition of the ground and the goal is to double the life of the tooling through research which would revolutionize industry standards.
The maximum operating temperature rating for the stress relieving box furnaces is 2050°F and work chamber dimensions are 36" wide x 20" deep x 24" high. The box furnaces were designed to meet a temperature uniformity of +/-15°F at 1700°F and 2050°F per the requirements of AMS 2750E, Class 3 furnaces and Instrumentation D.
The stress relieving box furnaces utilize automatic chamber pressure controls and space saving rear mounted burners. To accommodate the tight floor spacing requirement of the customer, specialized burner passages were customer designed to provide convection heating while eliminating flame impingement on the part.
"The chamber pressure control for these box furnaces, which is a positive internal pressure that is maintained throughout the entire range of the furnace input, increases temperature uniformity and lowers operating costs for the customer." -Kenneth Zielke, Sales Engineer
Unique features of these Lindberg/MPH heat treating box furnaces include:
AMS 2750E Class 3 furnace, Instrumentation Type D
AMS compliant temperature controller with graphic video recorder
Temperature uniformity of +/-15°F at 1700°F and 2050°F
300 pound load capacity
750,000 BTU/hr input
VFD combustion blower and chamber pressure control
About Lindberg/MPH
In addition to box furnaces, Lindberg/MPH is a leading manufacturer of standard and custom industrial heat treat furnaces, including pit, box, IQ, and belt type for the ferrous markets. Lindberg/MPH also specializes in a variety of non-ferrous melting and holding equipment including but not limited to, aluminum melting furnaces, zinc melting furnaces, aluminum and zinc launder systems, crucible furnaces, and automatic dosing equipment. Lindberg/MPH customers cover a wide range of industries including aerospace/military, automotive, commercial heat treating, energy/oil, electronics and the forging markets. Founded in 1917, the company has more than 75,000 industrial furnace installations worldwide and their equipment is backed by a full range of customer support services and the most extensive replacement parts inventory in the industry. Lindberg is a proven leader in the thermal processing industry, with a long track record of proven policies and management practices.
Lindberg/MPH is owned by Thermal Product Solutions ("TPS"), a leading American manufacturer of custom industrial ovens used for heat treating, finishing, drying, curing, manufacturing automation and process control. TPS is a global leader in thermal processing products and test solutions with brands including Baker Furnace, Blue M, Gruenberg, Tenney, Lindberg, Lunaire, MPH, and Wisconsin Oven. For more information on equipment solutions from TPS visit the website at www.thermalproductsolutions.com.
More from Thermal & Heating Equipment