Lindberg/MPH Ships Electrically Heated Pit Furnace to a Technology Manufacturer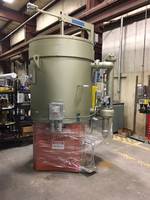 Lindberg/MPH announced the shipment of an electrically heated, gas nitriding, pit furnace with an ammonia dissociator system for heat treating parts. This heat treat furnace system performs a two-stage nitriding process to achieve high surface hardness of the steel parts. The ammonia dissociator provides dissociated ammonia during the nitriding cycle second stage. All of the equipment needed to perform this two-stage nitriding process has been provided with the system and is backed by the installation and start-up support of knowledgeable Lindberg/MPH service personnel.
The pit furnace has a maximum temperature rating of 1250°F and work chamber dimensions of 28" diameter x 36" depth. A state of the art operator interface controls process parameters and is used to observe/archive historical data. The system will monitor and control the furnace temperature, fan speed, atmosphere flow, and cooling throughout the entire cycle. Accelerated cooling cuts down on overall cycle time. The advanced control system solves the problems of controlling furnace atmospheres, storing batch data, tracking alarm trending, and complying with AMS2750E specifications.
"The advanced control system supplied on this pit furnace provided our customer with the ability to efficiently program and record their entire heat treating process. The state of the art PLC system installed on this system was the ideal choice to control the two stage nitriding process and meet AMS2750E specifications."Jason Dobberstein, Inside Sales Manager
Unique features of this Lindberg/MPH pit furnace include:
Low iron brick insulation to prevent reactivity with furnace atmosphere
Heater coils designed with low surface watt density for extended service life
Thermocartridge fan for increased heat and atmosphere recirculation
Nitriding gas flow control system with full automatic recipe control for each stage of the two-stage nitriding process
Electric process atmosphere flowmeters
Paperless chart recorder
Oxygen and hydrogen sensors
Accelerated cooling
AMS2750E Factory Uniformity Testing
Ammonia dissociator
Instrumentation Commissioning
Furnace Commissioning
About Lindberg/MPH
Lindberg/MPH is a leading manufacturer of standard and custom industrial heat treat furnaces, including pit, box, IQ, and belt type for the ferrous and non-ferrous markets. Lindberg/MPH customers cover a wide range of industries including aerospace/military, automotive, commercial heat treating, energy/oil, electronics and the forging markets. Founded in 1917, the company has more than 75,000 industrial furnace installations worldwide and their equipment is backed by a full range of customer support services and the most extensive replacement parts inventory in the industry. Lindberg/MPH is a proven leader in the thermal processing industry, with a long track record of proven policies and management practices.
Lindberg/MPH is owned by Thermal Product Solutions ("TPS"), a leading American manufacturer of custom industrial ovens used for heat treating, finishing, drying, curing, manufacturing automation and process control. TPS is a global leader in thermal processing products and test solutions with brands including Baker Furnace, BlueM, Gruenberg, Tenney, Lindberg, MPH, and Wisconsin Oven. For more information on equipment solutions from TPS visit the website at www.thermalproductsolutions.com.
More from Thermal & Heating Equipment