Lindberg/MPH Ships Atmosphere Box Furnace to Aerospace Company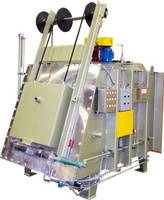 Riverside, MI - April 18, 2018: Lindberg/MPH announced the shipment of an electrically heated rod overbend atmosphere box furnace to the aerospace industry. The box furnace will perform a heat treatment on parts within the work chamber under a reducing atmosphere generated from a nitrogen methanol panel.
The atmosphere box furnace has a maximum temperature rating of 2000°F and work chamber dimensions of 24" wide x 36" deep x 24ʺ high. A recirculating fan distributes atmosphere and heat evenly within the work chamber and temperature uniformity is +/-25° F at 2000°F. The rod overbend box furnace also utilizes an integrated carbon control circuit for neutral hardening.
The furnace shell is constructed from welded steel plate and the chamber is heated with a radiant heating system that uses heavy gauge alloy rod over-bend heating elements positioned on the chamber side walls and floor. The metal to metal door seal eliminates air intrusion into the work chamber and multiple thermocouple jacks are located on the outside of the furnace shell to allow for easy connection to thermocouples at various locations.
"This box furnace is an ideal solution for neutral hardening as it includes a nitrogen methanol control panel, paperless chart recorder, recirculating fan, and curtain burner for safe operation." ~Jason Dobberstein, Application Engineering Manager
Unique features of this Lindberg/MPH box furnace include:
• Nitrogen methanol panel
• Recirculating fan
• Variable frequency drive
• Exterior thermocouple jacks
• Carbon probe
• Metal to metal door seal
• Door limit switch
• Door curtain burner
• Programmable digital controller and paperless chart recorder
• Installation and start-up service performed by factory trained technicians
 About Lindberg/MPH
Lindberg/MPH is a leading manufacturer of standard and custom industrial heat treat furnaces, including pit, box, IQ, and belt type for the ferrous markets. Lindberg/MPH also specializes in a variety of non-ferrous melting and holding equipment including but not limited to, aluminum melting furnaces, zinc melting furnaces, aluminum and zinc launder systems, crucible furnaces, and automatic dosing equipment. Lindberg/MPH customers cover a wide range of industries including aerospace/military, automotive, commercial heat treating, energy/oil, electronics and the forging markets. Founded in 1917, the company has more than 75,000 industrial furnace installations worldwide and their equipment is backed by a full range of customer support services and the most extensive replacement parts inventory in the industry. Lindberg is a proven leader in the thermal processing industry, with a long track record of proven policies and management practices.
Lindberg/MPH is owned by Thermal Product Solutions ("TPS"), a leading American manufacturer of custom industrial ovens used for heat treating, finishing, drying, curing, manufacturing automation and process control. TPS is a global leader in thermal processing products and test solutions with brands including Baker Furnace, Blue M, Gruenberg, Tenney, Lindberg, Lunaire, MPH, and Wisconsin Oven. For more information on equipment solutions from TPS visit the website at www.thermalproductsolutions.com.
Contact This Company Download Spec Sheet
More from Thermal & Heating Equipment