Lindberg/MPH Ships a Hot Stamping Furnace to an Automotive Supplier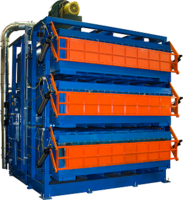 December 4, 2017 – Lindberg/MPH announced the shipment of an electrically heated 3-chamber batch furnace to an automotive supplier. This multiple chamber furnace system will be used to preheat steel blanks to be used for hot stamping structural automotive components. The usage of multiple independent chambers means that multiple blanks can be simultaneously preheated resulting in reduced cycle times.
The 3-chamber batch furnace has a maximum temperature rating of 1920°F and work chamber dimensions of 102" diameter x 102" depth x 14" high. The furnace features inert gas atmosphere controls on one chamber which will allow the customer to utilize a nitrogen gas atmosphere. Each chamber has three (3) zones of heat to control temperature uniformity throughout the entire workspace. A cooling blower provides airflow between the three chambers and overtemperature protection is provided for each chamber.
The parallel arm doors actuate quickly to load and unload blanks which keeps heat loss to a minimum. The refractory lining is constructed from vacuum formed ceramic fiber modules that heat up quickly and have low heat storage. Five (5) monitoring thermocouples will be supplied in each chamber to help profile the heat during the process development. A programmable logic controller performs temperature control, as well as logic and switching functions. The controller also offers Ethernet and Modbus-485 communication interfaces and is capable of archiving furnace time/temperature profiles.
"The three (3) zones of hot stamping furnace have been tested for uniformity using multiple data points to ensure it is on par with our high-quality standards." -Jason Dobberstein, Application Engineering Manager
Unique features of this Lindberg/MPH electric batch furnace include:
Vacuum formed ceramic fiber modules with low heat storage for fast heat up rates
3 heating zones in each chamber
Independent parallel arm doors
Multiple heating chambers
Multiple point uniformity test
Inert gas atmosphere addition
Raised pier hearth
Programmable logic controller
Exterior cooling blower
About Lindberg/MPH
Lindberg/MPH is a leading manufacturer of standard and custom industrial heat treat furnaces, including pit, box, IQ, and belt type for the ferrous and non-ferrous markets. Lindberg/MPH customers cover a wide range of industries including aerospace/military, automotive, commercial heat treating, energy/oil, electronics and the forging markets. Founded in 1917, the company has more than 75,000 industrial furnace installations worldwide and their equipment is backed by a full range of customer support services and the most extensive replacement parts inventory in the industry. Lindberg/MPH is a proven leader in the thermal processing industry, with a long track record of proven policies and management practices.
Lindberg/MPH is owned by Thermal Product Solutions ("TPS"), a leading American manufacturer of industrial ovens, furnaces, pharmaceutical sterilizers, laboratory ovens, environmental temperature chambers, and stability test chambers. TPS provides thermal processing and test solutions for a range of industries. TPS brands include Baker Furnace, Blue M, Gruenberg, Tenney, Lindberg, Lunaire, MPH, and Wisconsin Oven. For more information on equipment solutions from TPS visit the website at www.thermalproductsolutions.com.
Contact This Company Download Spec Sheet
Related