Lindberg/MPH Ships 1200°C Tube Furnace for Technical Research and Development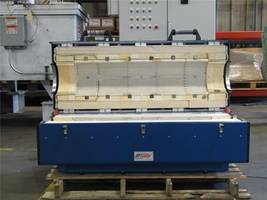 September 14, 2017 – Lindberg/MPH announced the shipment is 1200°C hinged, 3 zone, tube furnace. This tube furnace is designed for horizontal use and can be used with a variety of customer supplied ceramic, quartz, or alloy process tubes or retorts. This tube furnace was designed for use with the customers' existing control system.
The work chamber dimensions of this tube furnace are 36" L X 7" Diameter. It has a maximum temperature rating is 1200°C. Total equipment input is approximately 14.28kW @ 240V / single phase.
This furnace has an insulating vestibule at each end. It is equipped with a full-length hinge and a positive latch for easy observation, fast cooling, convenient placement of the process tube and overall ease of operation. The furnace utilizes semi-cylindrical heating units located in each half to form a long, split cylindrical heated chamber. The heated chamber is divided into 3 independent zones with independent thermocouples for control reference to allow adjustable profiling of end zones by customers' controls. In operation, the end zone set points can be raised to compensate for heat losses and increase the length of the uniform temperature zone in the center of the furnace. The furnace is equipped with long-life, fast response thermocouples attached to six feet of compensated lead wire with a polarized plug.
"This tube furnace allows for great temperature uniformity and process repeatability which is key for R&D applications." Kelley Shreve, Applications Engineer
Unique features of this Lindberg/MPH tube furnace include:
High temperature graded insulation
Double shell construction
Advanced heating element designs
Attractive outer shell design
Heavy-duty construction
About Lindberg/MPH
In addition to melting and holding furnaces for non-ferrous alloys, Lindberg/MPH is a leading manufacturer of standard and custom industrial heat treat furnaces, including pit, box, IQ, and belt type for the ferrous and non-ferrous markets. Lindberg/MPH customers cover a wide range of industries including aerospace/military, automotive, commercial heat treating, energy/oil, electronics and the forging markets. Founded in 1917, the company has more than 75,000 industrial furnace installations worldwide and their equipment is backed by a full range of customer support services and the most extensive replacement parts inventory in the industry. Lindberg/MPH is a proven leader in the thermal processing industry, with a long track record of proven policies and management practices.
Lindberg/MPH is owned by Thermal Product Solutions ("TPS"), a leading American manufacturer of custom industrial ovens used for heat treating, finishing, drying, curing, manufacturing automation and process control. TPS is a global leader in thermal processing products and test solutions with brands including Baker Furnace, BlueM, Gruenberg, Tenney, Lindberg, Lunaire, MPH, and Wisconsin Oven. For more information on equipment solutions from TPS visit the website at www.thermalproductsolutions.com.
Contact This Company Download Spec Sheet
Related