Lincoln's PowerLuber Grease Guns work with any battery and charger.
Press Release Summary: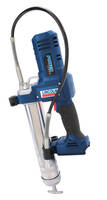 Lincoln's PowerLuber Cordless Grease Guns are offered in models such as 1260-NB 12V and 1880-NB 20V Lithium-Ion PowerLuber, 1200-NB 12V and 1800-NB 18V NiCd PowerLuber. Lithium-Ion variant comes with five-year tool warranty whereas NiCd models with one-year warranty.
---
Original Press Release:
New PowerLuber Tool-Only Option
This product is available for sale in North America and will be stocked in St. Louis, Mo.
SKF today announced the introduction of its new Lincoln PowerLuber tool-only option. Part of the successful PowerLuber family of grease guns, these tool-only configurations can save customers money when buying a replacement or an additional grease gun to increase productivity.
Customers now can purchase one of four cordless grease gun models to work with the battery and charger that they already have. Included in this offering are the model 1260-NB 12V Lithium-Ion PowerLuber, model 1880-NB 20V Lithium-Ion PowerLuber, model 1200-NB 12V NiCd PowerLuber and model 1800-NB 18V NiCd PowerLuber.
All four of these field-proven, high-pressure grease guns come with a 100-day satisfaction guarantee. The Lithium-Ion PowerLubers feature a five-year tool warranty. The standard one-year warranty continues to be honored on the NiCd models.
Combining more than 100 years of SKF and Lincoln expertise, SKF offers the industry's most complete portfolio of innovative lubrication solutions - from manual lubricators and tools, to the most advanced centralized and automatic lubrication systems.
Please forward all reader service inquiries to:
Lincoln Lead Service
10785 Indian Head Industrial Blvd
St. Louis, MO, 63132
Phone: 1.314.261.8600
Fax: 1.800.435.8849
Contact:
Damon C. Hollins
Communication Specialist
SKF Lincoln
Lincoln Industrial
5148 N Hanley Rd.
Saint Louis, MO, 63134
Phone: 314-679-4200
Url: http://www.lincolnindustrial.com/home.aspx
Email: [email protected]