LIN Devices integrate voltage regulation, watchdog.
Press Release Summary: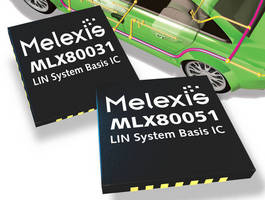 Supplied in QFN5x5 packages, MLX80031 and MLX80051 enable development of local interconnect network (LIN) slaves. ICs combine physical layer LIN transceiver, according to LIN 2.x and SAEJ2602, with voltage regulator: 3.3 V/70 mA for MLX80031 and 5 V/70 mA for MLX80051. Independent window watchdog increases system availability of connected MCU, and standby management ensures initiation of wake up from LIN bus itself or directly from connected MCU or other external sources.
---
Original Press Release:

Melexis Introduces Enhanced LIN Communication Devices with Integrated Voltage Regulation & Watchdog Functionality



Ieper, Belgium -- The local interconnect network (LIN) bus continues to see widespread adoption in the automotive world. This robust, cost-effective communication protocol allows implementation of many basic networking functions in sub-systems previously considered to be uneconomical for smart actuators and controls.



Each offered in compact QFN5x5 packages, the MLX80031 and MLX80051 from Melexis respond to this ever increasing need, enabling development of LIN slaves in a simple and highly efficient manner. These ICs combine a physical layer LIN transceiver (according to LIN 2.x and SAEJ2602) with a voltage regulator (3.3V/70mA for the MLX80031 and 5V/70mA for the MLX80051). Both devices have an independent window watchdog which increases the system availability of the connected microcontroller. Furthermore they are pin-to-pin compatible with established LIN devices such as the ATA6622/28.



Produced using a 0.35µm HV-CMOS process technology, these transceivers are optimized for minimal current consumption (drawing only 15µA in standby mode). Integrated standby management assures initiation of 'wake up' from the LIN bus itself or directly from a connected microcontroller or other external sources. By generating a RESET output signal they can minimize the external circuitry necessary for the microcontroller they are connected to. Via one external bipolar transistor the output current can be increased in case the internal regulator cannot support the current level needed for the specific application.



The MLX80031 and MLX80051 also have the capacity to meet the increased electro-magnetic compatibility (EMC) requirements for single wire bus systems as well as the "Hardware Requirements for LIN, CAN and Flexray Interfaces in Automotive Applications" defined by German car manufacturers. For self-protection the ICs are equipped with integrated load current limitation and over temperature shutdown, as well as 40V load dump protection. In addition, the MLX80031 and MLX80051 achieve world-leading electro-static discharge (ESD) robustness of >20kV with direct discharge as well as >15KV with indirect discharge (complying with IEC61000-4-2). These devices are qualified in accordance with both AECQ100 and RoHS. Samples are available on request.



Contact Melexis



Marketing Communications

Peter Riendeau

Melexis Inc

15 Trafalgar Sq., Ste. 100

Nashua, NH 03063

USA

Tel: 603-204-2900

Fax: 603 578-1270

pre@melexis.com



Sales Leads

Susan Brocious

Melexis Inc

15 Trafalgar Sq., Ste. 100

Nashua, NH 03063

USA

Tel: 603-204-2900

Fax: 603 578-1270

sbr@melexis.com



About Melexis

Melexis Microelectronic Integrated Systems N.V. (Euronext Brussels:MELE) imagines, creates and delivers innovative mixed signal integrated circuits. Melexis ICs are driving green solutions that enable our customers to bring more energy efficient automotive systems to market. Melexis product portfolio addresses 4 classes of ICs; Sensor, Optoelectronic, Wireless and Actuators. Sensors include magnetic, MEMs, and sensor interface ICs. Optoelectronic products encompass linear arrays, single point sensors, infrared thermometers and CMOS wide dynamic range and night vision cameras. Wireless ICs focus on RKE, TPMS, ISM band applications, NFC, RFID reader and smart tag solutions. Actuator ICs cover LIN and CAN bus networking ICs and advanced BLDC motor driver technology. Melexis is proud of its participation toward reducing the human race's global environmental footprint.



For more information visit www.melexis.com



Issued by:

Mike Green

Pinnacle Marketing Communications Ltd

Tel: +44 208 4296 543

E-mail: m.green@pinnaclemarcom.com

Web: www.pinnacle-marketing.com

More from Packaging Products & Equipment