LIMS Software supports variety of laboratory instruments.
Press Release Summary: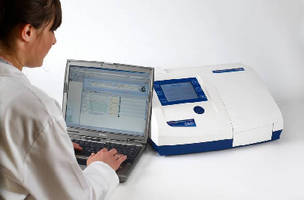 Compatible with Jenway 7300, 7305, 67 series Genova Plus and Genova Nano spectrophotometers, Jenway 4510 bench conductivity meter, and Stuart SMP40 automatic melting point, Qualoupe Lite delivers straightforward functions for storing and retrieving laboratory results and data. Analysis results and method information can be transferred from instruments to database, either by direct connection or via removable media, ready to be recalled for review at any point.
---
Original Press Release:

Bibby Scientific Incorporates Qualoupe Lite Into more Instruments for Better Data Tracking and Storage



Staffordshire, UK:  Qualoupe Lite, Bibby Scientific's low cost, intuitive laboratory information management system (LIMS), is now available across an even wider selection of the company's laboratory equipment. The system, compatible with Jenway 7300, 7305, 67 series, Genova Plus and Genova Nano spectrophotometers, Jenway 4510 bench conductivity meter and the Stuart SMP40 automatic melting point, provides a convenient solution for laboratories in need of a simple, auditable data storage system.



Qualoupe Lite is ideal for small and medium laboratories in the academic and commercial sectors, delivering powerful but straightforward functions for storing and retrieving laboratory results and data. This affordable LIMS eliminates the need to spend large amounts of money on overcomplicated software – a common problem faced by laboratories looking to upgrade from a traditional paper or multiple PC storage system. Using Qualoupe Lite, analysis results and method information can be transferred easily from the instruments to the database, either by a direct connection or via removable media, ready to be recalled for review at any point.



Simple procedures for setting up new tests, adding pass and fail limits and recalling results mean that the system can be used to store and recall laboratory data with minimal training. Users can print a results report from the Sample Manager application, and have the option to upgrade to a full Qualoupe LIMS system in the future. Qualoupe Lite is also available in French and German language versions.



For more information, please visit www.bibby-scientific.com



About Bibby Scientific

One of four new companies established by Nova Capital from the former Barloworld Scientific business, acquired in November 2007, Bibby Scientific Limited focuses on the design, manufacture and distribution of four world-leading benchtop laboratory equipment brands: Jenway®, Stuart®, Techne® and Electrothermal®.



The 2011 acquisition of Electrothermal, market leaders in heating mantle design and manufacture, adds an extensive range of outstanding products which complement Bibby Scientific's broad-based portfolio.



All four brands are available through good laboratory distributors worldwide. Bibby Scientific Ltd has subsidiaries in the USA, France and Singapore, as well as an associated company in the Middle East.



Please send sales enquiries to:

Bibby Scientific Ltd

Beacon Road, Stone, Staffordshire, ST15 0SA, UK

Tel: +44 (0)1785 812121

Fax: +44 (0)1785 810405

info@bibby-scientific.com

Related