Limited Angle Torque Motors deliver ripple-free motion.
Press Release Summary: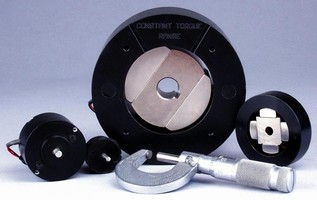 Available in standard and custom designs, Torquers are single-phase, brushless motors offered in kit and housed styles. MR series provides angular excursions to 180° and features toroidally wound iron core stator with 2-, 4-, or 6-pole permanent magnet rotors. Arc segmented, multi-pole permanent magnet stator motors in WR series have copper magnet wire rotor for excursions less than 90°. Continuous and peak torque values range from 2-1,000 oz-in and 6-3,000 oz-in. respectively.
---
Original Press Release:

NEW! Limited Angle Torque Motors Feature High Acceleration and Ripple Free Motion



Valencia, CA - Limited Angle Torque Motors or "Torquers" as they are commonly referred to are the rotary actuator of choice when high torque, high acceleration, extremely smooth motion, high reliability, and high precision are required. H2W Technologies manufacturers "Torquers" that have applications from below sea level to outer space. These single phase, brushless, low profile motors, vacuum compatible to 10^5 torr, are ideal for: Operating valves, control surfaces on submersible watercraft, aerospace fin actuation, precision ball screw rotation, and positioning laser reflecting mirrors.

Standard and custom design "Torquers" manufactured by H2W Technologies include, miniature 1.4 Ncm continuous, torque 5.2 Ncm peak torque (2 oz-in., 6 oz/in.) motors and powerful 706 Ncm continuous torque, 2118 5.2 Ncm peak (1000 oz-in. continuous torque, 3000 oz-in. peak) motors.

Available in kit and housed styles, H2W Technologies limited angle torque motors come in two distinct series to meet diverse application requirements. The MR series of limited angle torque motors feature a toroidally wound iron core stator with 2, 4, or 6 pole permanent magnet rotors. This series provides angular excursions (rotation) to 180° and typically is supplied in kit form to be directly mounted to the drive shaft of an application. By modifying the stator windings angular excursions greater than 180° can be realized.

The WR series is an arc segmented multi-pole permanent magnet stator motor with a low inertia copper magnet wire rotor for excursions less than 90°. Additionally the WR series of "Torquers" are available in standard and low profile versions

Torquer options are kit motors, and housed motors which incorporate: Bearings, shafts, housings, provisions for encoders, and custom mountings. A matching Linear servo amplifier and complete plug-and-play systems are available.

H2W Technologies, Inc. is dedicated to the design and manufacture of linear and rotary motion products that are used in the motion control industry. The complete line of linear electric motors includes: Single and dual axis linear steppers, DC brush and brushless linear motors, voice coil actuators, and AC induction motors. Also offered is a complete line of ball screw, lead screw and belt driven positioning stages.

Other motion control products include: 3-phase brushless rotary servo motors with matching digital servo amplifiers and permanent magnet linear brakes for fail-safe, zero power braking for baggage handling and people moving applications as well as amusement park rides.

With over 75 years combined experience in the linear and rotary motion field, the H2W Technologies team of engineers offers the optimal solution to the most demanding motion control, requirements.

For additional information contact Mark Wilson at H2W Technologies, 28310-C Avenue Crocker, Valencia, CA 91355; Tel: 888-702-0540, Fax: 661-702-9348, E-Mail: info@h2wtech.con or visit the Website at www.h2wtech.com

More from Communication Systems & Equipment