Lightweight Scrap Magnets handle fixed and mixed loads.
Press Release Summary: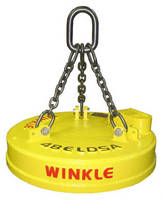 OptiMag L-Series includes 1,025-7,750 lb LDSA magnets with 625-5,625 lb lifting capacity and 895-7,500 lb ELDSA magnets rated for 575-5,550 lb loads. Latter is suited for smaller hydraulic scrap handling machines, and both types are recommended for fixed and mixed loads in general-duty scrap handling applications. Lifting surface and total weight are optimized to best utilize crane's load-lifting capacity. ELDSA models come with heavy-duty mechanical features and deep-field coils.
---
Original Press Release:

New OptiMag L-Series Lifting Magnets from Winkle Maximize Load Capacity for Scrap Handlers



Alliance, OH - Winkle Industries has introduced a new line-up of lightweight scrap magnets developed with the latest version of the company's proprietary computer modeling software.

Winkle's OptiMag "L-Series" lifting magnets for scrap recyclers now include two model ranges, the LDSA magnets, updated from the previous LSA standard, and a new ELDSA line created specifically for smaller hydraulic scrap handling machines. The new L-Series models offer increased lifting capacity with lighter weight magnets. Through the redesign and enhancement process, Winkle also reduced costs in the new line-up of L-Series magnets through improved manufacturing and material efficiencies.

The LDSA and ELDSA types are both recommended for fixed and mixed loads in general duty scrap handling applications, providing a large lifting surface and reduced total weight to best utilize the crane's load-lifting capacity. The lightweight LDSA and extra-light ELDSA models typically provide a weight savings of 4% to as much as 14% over comparable competitive magnets and come complete with heavy-duty mechanical features and deep-field coils.

The new magnets are the result of an end-to-end redesign and enhancement program enabled by recent refinements to the proprietary engineering software developed by Winkle. The 3D computer- aided modeling program allows Winkle engineers to optimize the magnet's mechanical structure and coil design to ensure maximum lifting capacity, superior duty cycles and longer service life.

The standard line includes models ranging from 30 inches to 72 inches in diameter. LDSA magnets range in weight from 1,025 to 7,750 lbs., with lifting capacity from 625 to 5,625 lbs. ELDSA magnets begin at 895 lbs., lifting up to 575 lbs., and range to the 72 inch 7,500 lb. unit able to lift up to 5,550 lbs. Shipping weights are specified to include the weight of magnet chains, which are also optimized to suit the strength and safety demands of the application.

Winkle designs all of its lifting magnets to achieve at least 75% duty cycles in continuous 24/7 operation. All customer orders are reviewed by Winkle engineering to optimize magnet specifications for the required application and equipment.

About Winkle Industries
Winkle Industries is a worldwide leader in engineered solutions for users of mill-duty material handling equipment. Winkle's ISO 9001:2008 facilities provide end-to-end design, manufacture and support for above-the-hook and below-the-hook lifting devices, electrical and mechanical crane products, on-the-ground material handling equipment, engineering services, aftermarket services, machining and fabrication. Winkle's experience and resources are "raising customer expectations" on a wide range of needs, from innovative product design to customer process improvement.


Related