Lightwave Logic Announces Receipt of Patent on Innovative Polymer Modulator Packaging Design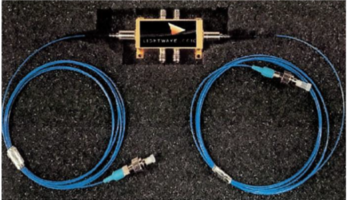 New Packaging Invention Enables Improved Modulator Performance Using Standardized Fabrication Techniques in Low-Cost, High-Volume Applications
ENGLEWOOD, Colo., Jan. 13, 2021 /PRNewswire/ -- Lightwave Logic, Inc. (OTCQB: LWLG), a technology platform company leveraging its proprietary electro-optic polymers to transmit data at higher speeds with less power, today announced the receipt of a patent on a new polymer modulator packaging invention, enabling low-cost and high-volume applications in datacenter and telecommunications markets.
U.S. Patent number 10,886,694, granted on January 5, 2021, details an invention that allows electro-optic polymer modulators to be packaged in a hermetic environment using well-known, high-volume and low-cost fabrication processes that are available in a typical semiconductor fabrication foundry – improving suitability for mass production. Further, the design of this capsule package can improve both the reliability and the coupling interface between fiber optic cables and their laser sources for arrayed photonic integrated circuit solutions. The package can also interpose signals from an underlying circuit board to the polymer modulators, lasers, and other components for data transfer.
As noted in the patent, the hermetic capsule is built from a semiconductor base that contains electrical and optical circuits and components. A hermetic capsule chamber is created by the design of a semiconductor lid that is sealed to the semiconductor base platform by a metallization process.
"Using standardized fabrication techniques to create a package that achieves the performance, reliability, cost, and volume requirements has been a challenge for the photonics industry for years," said Dr. Michael Lebby, Chief Executive Officer of Lightwave Logic. "This incredible new hermetic capsule invention addresses this challenge, enabling the industry to progress past this hurdle. The team at Lightwave Logic is incredibly gifted to have created this and have all the skills and drive needed to push this breakthrough technological advancement through to a broader industry presence in the near-future.
"This is yet another important patent that serves to further strengthen our U.S. patent portfolio, as well as our freedom of manufacturing in the field. I look forward to continued advancement of our inventions to create strong business, driving long-term value creation for our shareholders," concluded Lebby.
About Lightwave Logic, Inc.
Lightwave Logic, Inc. (OTCQB: LWLG) is developing a platform leveraging its proprietary engineered electro-optic (EO) polymers to transmit data at higher speeds with less power. The company's high-activity and high-stability organic polymers allow Lightwave Logic to create next-generation photonic EO devices, which convert data from electrical signals into optical signals, for applications in data communications and telecommunications markets. For more information, please visit the company's website at lightwavelogic.com.
Investor Relations Contact:
Greg Falesnik or Luke Zimmerman
MZ Group - MZ North America
949-259-4987 
LWLG@mzgroup.us 
www.mzgroup.us 
More from Transportation Industry Products