Lights Used in Reliance Foundry's Solar-Powered Lighting Bollards Survive Australian Flood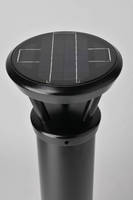 Flooding and pounding debris are not the challenges typically posed to solar bollards on walkways and streetscapes but, in the spring of 2012, that is exactly what several lighting bollards in Australia were subjected to. The bollards were fit with the same fixture as Reliance Foundry's standard solar-powered lighting bollards and an Australian company, Orion Solar, had supplied them to jetty specialists that were tasked with installing lighting on a pontoon. The pontoons were located on the Barron River, near Cairns, and were maintained by Australia's Department of Transport.  With the Barron River's history of flooding, the project's planners knew that the bollards and especially the solar lighting fixtures would have to be tough. When the bollards faced an intense environmental challenge less than two months later, however, everyone associated with the project was amazed by the outcome.



An ideal solution for an area that did not have a readily-available, electric power source, the solar powered lighting bollards were installed on February 12th, 2012 but a few weeks after installation, severe flooding truly tested their resiliency. On March 25th, extreme flooding began on the Barron River and it lasted until March 28th, 2012. For much of that time, the bollards were completely submerged and during this time they were repeatedly struck by floating debris. Being completely submerged would destroy the electric components of most lighting fixtures but when the waters subsided and workers checked the bollards' lighting systems, they were shocked by what they discovered.



"All four lights with three bulbs in each were found to be in full working order," said Duncan Muirson, Planning Coordinator at Australia's Department of Transport and Main Roads; "this is remarkable considering what they went through and that some were submerged for quite a while."



The lighting fixtures housed within the solar bollards were designed to be tough but what makes the story even more amazing is that they were only designed to be water-resistant, not water-proof. In fact, during the design stage, the engineers at First Light had placed a priority on breathability and appropriate battery venting.



"The lighting fixture was not designed for immersion; it was actually designed to allow for some air-flow," said Sean Bourquin, Managing Director at First Light Technologies. "Having said this, the head is now fully sealed and pressure equalization and battery venting are maintained."



The phrase "powered by First Light technologies" is often used to describe Reliance Foundry's solar-powered lighting bollards. The phrase may be easily passed over but readers should take note that it describes one of the most durable and efficient solar lighting fixtures on the market. It features solar panels composed of a highly durable polycarbonate that is UV resistant and highly-durable.  Its electronic components are sturdy and they are housed within a robust outer casting that provides the highest level of protection. The fixture that stood up to the flood waters of the Barron River is the exact lighting fixture that comes standard with every solar powered lighting bollard by Reliance Foundry.



Although the Australian solar bollards did demonstrate an intense level of resiliency by surviving this ordeal, Bourquin warns that bollards that face complete submersion usually require a completely different design approach. If questions arise on a solar powered lighting bollard's suitability for an application, Reliance Foundry's Sales Department should always be consulted.



For more information on highly-durable, solar powered lighting bollards and their fixtures, please visit Reliance Foundry's bollard website.



More from Architectural & Civil Engineering Products