Lighting Sconces feature fused glass colors/designs.
Press Release Summary: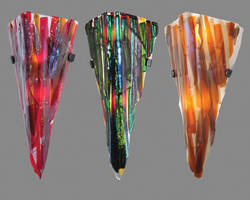 Lava V Sconce 108291 offers abstract fused glass design with bas relief highlighted with strips of iridescent red, smoke amber, and clear iridescent fused art glass. Penna Di Pavone V Sconce 108071 includes iridescent purple and iridescent green, amber, and gray fused glass in bas relief motif, while Marina V Sconce 107884 features amber, beige, smoke, and clear iridescent fused glass. All custom-crafted sconces are 8 in. wide x 16 in. tall.
---
Original Press Release:
Meyda Custom Lighting Introduces 'V Sconces' Featuring Fused Glass
YORKVILLE, NY - For a unique look in decorative wall fixtures, Meyda Custom Lighting introduces "V Sconces" featuring stunning fused glass colors and designs. Meyda Custom Lighting is a Meyda Tiffany Company and a leading designer/manufacturer of Custom Lighting Solutions. The 8"W "Lava" V Sconce (108291), pictured on the left, offers an abstract fused glass design, featuring Bas Relief, highlighted with strips of Iridescent Red, Smoke Amber and Clear Iridescent fused art glass. The sconce is 8 inches wide and 16 inches tall. The 8"W wide Penna Di Pavone V Sconce (108071) translates to the feathers of a peacock in Italian, and is pictured in the middle. This design features strips of Iridescent Purple and Iridescent Green, Amber and Gray fused glass in a unique Bas Relief motif. The 8"W Marina V Sconce (107884), pictured on the right, features Amber, Beige, Smoke and Clear Iridescent fused glass with a unique Bas Relief abstract design in the glass. The Marina V Sconce features striking iridescent undertones and a unique multi dimensional appearance. The sconce is eight inches wide and 16 inches tall. All "V" Sconces are custom crafted by Meyda artisans in the Yorkville, New York manufacturing facilities. About Meyda Lighting Meyda Lighting is a Meyda Tiffany Company, the nation's leading manufacturer and designer of Tiffany lamps and decorative lighting. Although founded in 1974, the firm's roots actually date back to the early 1900s, supplying the Master Louis Comfort Tiffany and his Tiffany Studios with lighting products, and creating the original Coca-Cola stained glass lamps and chandeliers. Meyda Lighting offers thousands of in-stock stained glass lighting and decor designs, with more than 50,000 customizable lighting options. Its vast line includes: Old Forge Collection of Rustic and Lodge styled lighting/decor, Craftsman Signature Series of Outdoor/Indoor Lighting (including new Landscape lanterns) featuring Arts & Crafts designs, Stained Glass Lighting featuring Victorian, Nouveau and a broad range of styles, Art Glass Windows and Fireplace Screens, Tiffany Gifts and Home Accents, Comfort Lighting Fashion Collection, and The Metro and Metro Fusion Lines of contemporary art glass, fused glass and ADA compliant designs. In addition, Meyda Lighting offers Extensive Custom Capabilities to create the custom lamp, fixture, window or accessory of your dreams. For more information, contact Meyda Lighting Toll-Free at (800) 222-4009. Website: www.Meyda.com Email: [email protected]. Meyda Lighting is headquartered at One Meyda Fine Place, 55 Oriskany Boulevard, Yorkville, NY 13495.