Lighting Management Unit conserves power in mobile applications.
Press Release Summary: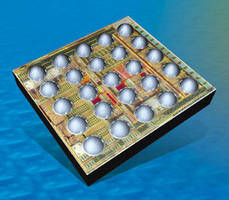 Integrated Lighting Management Unit (LMU), AS3676, incorporates power management for LED illumination with light pattern generation and audio synchronization for smartphones and portable devices. Along with ambient light sensing and dynamic luminance scaling, features include 13 current sinks, step-up DC/DC converter, charge-pump, ADC, and programmable LDO. Algorithms enable portable illumination and indication effects, and power conservation functions are standard.
---
Original Press Release:

austriamicrosystems Announces a New Highly Flexible Lighting Management Unit for Mobile Aapplications



The AS3676 incorporates highly-efficient and flexible power management for LED illumination with ambient light sense processing, light pattern generation, and audio synchronization for smartphones and portable devices

Unterpremstaetten, Austria - austriamicrosystems (SIX: AMS), a leading global designer and manufacturer of high-performance analog ICs, has announced the AS3676, a highly Integrated Lighting Management Unit (LMU) with ambient light sensing (ALS) and dynamic luminance scaling (DLS). The chip integrates 13 current sinks, a high-efficiency step-up DC-DC converter and high-power charge-pump, an analog-to-digital converter (ADC) and a programmable low drop-out regulator (LDO), all incorporated with advanced algorithms for high-efficiency display and keypad backlight, funlight, smartlight and other advanced portable illumination and indication effects.

The AS3676 LMU expands austriamicrosystems' industry's largest mobile LMU portfolio and provides the highest level of integration of any LMU on the market. With advanced technologies, austriamicrosystems' LMU portfolio enables the smallest PCB (printed circuit board) solutions and the lowest system cost. The integration of the main illumination features facilitates controlling all mobile lighting with a single chip. This simplifies hardware and software development and shortens time to market. The features and flexibility of the AS3676 make it well suited for a number of portable consumer electronic products, including mobile phones, mobile TV's, mobile DVD players, mobile GPS devices, and MP3 players.

With both ALS and DLS supported by the AS3676, power conservation thru automatic adjustment of backlighting and other LED functions is greatly simplified. In addition, built-in features like automatic dimming, pattern generation and audio sync function enable eye catching visual effects with minimum load on the baseband processor.

"The AS3676 LMU features, performance and high level of integration provide an all-in-one solution for mobile lighting. The AS3676 minimizes design effort and enables optimized performance with its rich feature set, product differentiating illumination, and power efficient algorithms", commented Oliver Weber, austriamicrosystems' Marketing Manager for Mobile Lighting Products. "As the next generation of austriamicrosystems' LMU portfolio, with millions in production, the AS3676 is destined to help facilitate customers' success in their markets."

The AS3676 is available in a CS-WLP30, 3x2.5 mm package and is priced at $2.40 in 1000-piece quantities. It operates over a wide 3.0 to 5.5 V supply range, and over a temperature range of -30 to +85 °C.

For further information on the AS3676 LMU or to request samples, visit http://www.austriamicrosystems.com/LMU/AS3676


Related