Lighting Fixtures offer up to 92% efficiency.
Press Release Summary: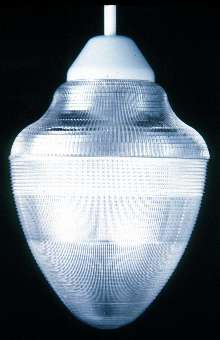 Illuminaire(TM) fixtures come in 5 optical designs suited for commercial, retail, or light industrial applications. Each shape is offered with plain optics or with decorative claws, caps, and mounting configuration options. Prismatic glass shapes include Egg, Tri-Egg, Crest, Tri-Crest, and Quad. Photometric distributions range from 75% downlight and 25% uplight to 10% downlight and 90% uplight. Sizes include 20 in. OD for quad model and 10½ and 16 in. OD for other shapes.
---
Original Press Release:

Holophane Introduces Innovative Illuminaire(TM) Line


NEWARK, Ohio (October 30, 2002) - Elegant new Illuminaire lighting fixtures from Holophane meet designers' needs for a fresh new look and efficient performance. Available in five innovative optical designs and two sizes with up to 92 percent efficiency, the luminaires are suited to virtually any commercial, retail or light industrial application.

Holophane will debut the first of the new prismatic glass shapes-the Egg and the Crest-in January, with the Tri-Egg and Tri-Crest shapes following in March. The modem-looking Quad shape will be available in May.

Each shape is offered with plain optics or a variety of enhancements, including decorative claws, caps and mounting configuration options. Designers may choose from a range of painted or realistic vacuum-deposited metallic finishes. Custom Tiger-Drylac colors are also available upon request.

"The versatile Illuminaire shapes meet designers' needs for something new and different," said Nate Van Meter, Product Development Manager, Commercial and Retail, Indoor, Holophane. "At the same time, sturdy borosilicate glass reflectors and refractors guarantee quality illumination with long-term performance and minimal maintenance."

The new Illuminaire fixtures are available with a range of photometric distributions, from 75 percent downlight and 25 percent uplight and 60 percent downlight and 40 percent uplight for the Egg, Crest, Tri-Egg and Tri-Crest, to 10 percent downlight and 90 percent uplight for the Quad shape. The Quad is also offered with 50 percent downlight and 50 percent uplight, and 70 percent downlight and 30 percent uplight.

All of the Illuminaire fixtures-except the Quad-may be ordered in a large size with a 16-inch outside diameter and a compact size with a 10 1/2-inch outside diameter. The Quad is available in the large size only with an outside diameter of 20 inches. Recommended mounting heights for all optics range from 8 to 25 feet.

Recommended applications for the new Illuminaire line include small stores, big box stores, boutiques, strip malls, hotels, restaurants, school common areas, multi-purpose rooms, open atriums, gymnasiums and natatoriums. The luminaires are also appropriate for airport concourses and common areas and light manufacturing and assembly facilities.

For more information about the new Illuminaire fixtures or for a copy of the product brochure or CD-Rom, contact your local Holophane factory sales representative or call (740) 345-9631.

Headquartered in Newark, Holophane has been the leader in lighting solutions for over a century. The company provides lighting systems for commercial, industrial, emergency
and outdoor applications. Holophane is an Acuity Brands Company. Visit the Holophane Web site at www.holophane.com.

For more information, please contact:

Nate Van Meter
Product Development Manager, Commercial & Retail, Indoor
HOLOPHANE
214 Oakwood Avenue
Newark, Ohio 43058
(740) 349-4284
nvanmeter@holophane.com

More from Material Processing