Lighting Controller does not require hard wiring to fixtures.
Press Release Summary: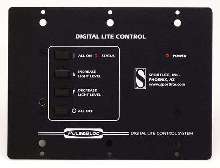 Advanced Lighting System with PulseBloc® utilizes digital pulse technology to provide 4 levels of remote stepped dimming. System consists of 3 components: Sportlite fixture, PulseBloc receiver, and PulseBloc wall controller. PulseBloc digital pulse technology is unaffected by noise on line, allowing signals to get through 99.97% reliability. Using existing wiring as communication medium, system does not interfere with other equipment in building.
---
Original Press Release:
Sportlite Advanced Lighting System with Pulsebloc® Offers Multi-Level Lighting Control Without Hard Wiring to Fixtures
GLENDALE, AZ -March 3, 2003 - The new Advanced Lighting System with PulseBloc® from Sportlite, Inc. features an exclusive patented digital pulse technology, offering the most reliable, efficient multi-level lighting control available without hard wiring to the fixtures. The Advanced Lighting System with PulseBloc has only three components: the Sportlite fixture, the PulseBloc® receiver (located in each fixture and pre-installed) and the PulseBloc® wall controller. The communication between the wall controller and the light fixtures is accomplished completely through existing electrical power lines using a patented digital technology composed of a very high signal of pulses in a very low frequency range. Each light fixture contains a PulseBloc® module that receives and decodes the commands sent by the wall controller specifically designed to produce the highest level of reliability, especially in severe industrial, commercial and institutional environments where noise and equipment can interfere with lighting controls. PulseBloc digital pulse technology is virtually unaffected by noise on the line, allowing the signal to get through with 99.97 percent reliability. By using existing wiring as the communication medium, the system does not interfere with other equipment in the building. With Sportlite's Advanced Lighting System with PulseBloc®, the brightness of the lighting system can be remotely set to four levels of stepped dimming. By adding one dimming ballast per fixture, the system allows up to seven levels of stepped dimming to create dramatic lighting effects. Stepped dimming is an efficient, inexpensive way to lower light levels and save energy. Operating the PulseBloc® system is simple - there are four buttons, including "all on," "all off," "step up" and "step down." The system also offers terminals for connecting optional remote control devices such as motion sensors, timers, and switches that can also control the lighting system. How PulseBloc Works: o Each Sportlite fixture is equipped with a small microcontroller-based PulseBloc. o The digital pulse communication method sends control commands over the electrical power line. o The wall controller encodes the lighting control commands and transmits them over the electrical power line. o The PulseBloc receives and decodes the lighting control commands and carries out the instructions (ON, OFF, etc.). Since 1992, Sportlite has been lighting the way to functional and energy efficient lighting systems. Thousands of our fixtures are in operation at retail establishments, warehouses, manufacturing plants, gymnasiums and ice rinks throughout North America.
More from Test & Measurement