Lighting Control offers efficient option for HID users.
Press Release Summary: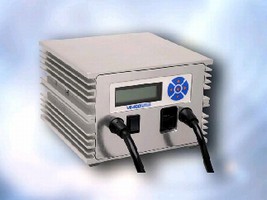 Featuring solid-state electronics, Model VB400 enables automatic, manual, and remote control to provide HID lighting that is energy efficient and can be integrated into demand-response scenario. It replaces magnetic ballasts, timers, relays, control panels, photo cells, and intensive wiring required to connect each fixture to all external parts. Featuring plug-and-play design, Model VB400 enables use of 200-400 W bulbs no matter what manufacturer, HID type, or input voltage.
---
Original Press Release:

VB400 Lighting Control Saves Energy and Costs Over T5/T8 Replacements



May 8, 2007
New option for HID users replaces fluorescent technology....

HUNTINGTON BEACH, Calif., May 8, 2007 - IEPC Corp., a product development company specializing in lighting controls, provides the lighting industry with a more efficient and cost-effective lighting control system alternative for high-intensity discharge (HID) lamp lighting applications that previously required the costly, inefficient switch to fluorescent lighting in order to achieve energy savings. The VB400 lighting control from IEPC Corp. combines solid-state electronics with advanced control features to provide customers with energy-efficient control that reduces the HID lighting fixture count by 25 to 33 percent. The technology also lowers energy costs by as much as 40 to 60 percent without a fluorescent system's high initial investment, additional equipment and installation challenges.

Customers switching from 400W HID lamps to 234W T5/T8 HO lamps decrease their brightness and lack control. But by switching from a 400W HID lamp to a 200W HID lamp controlled by the VB400, customers have more brightness, more energy efficiency and more control.

The VB400 enables automatic control, manual control, and remote control to provide high-performance lighting that is energy efficient and easily integrated into a demand-response scenario.

"Present-day HID lighting paired with traditional magnetic ballasts lacks control, and more lamps are needed to get the same light output," said Ron Flores, president of IEPC.

"There is an inability to respond to on-demand lighting changes and to know when to re-lamp, which wastes energy. Also, lamps stay on to avoid start-up time and they draw more power but have reduced output. Until now, the only perceived energy-saving solution for HID users was to switch to fluorescent lighting."
However, T5/T8 HO fluorescent lamps are expensive to install; require two or more relays for each fixture and two to eight lamps per one HID lamp; and require additional equipment and wiring for features such as dimming, motion control and daylight harvesting.

Also, configuration can be cumbersome during installation if using a Digital Addressable Lighting Interface (DALI), which can cost up to $1000 per fixture while offering only limited controls. If there is a problem, users need to replace two to four lamps; moreover, multiple lamps can cause excessive heat that in turn speeds up the burning out of lamps.

In addition, long-term energy costs are high due to inferior lighting quality and reduced lumen output, as well as excess stand-by energy consumption, which make fluorescent lamps increasingly less bright and more inefficient over time. They draw the same current input regardless of wattage output and create a high heat output that affects the optimum lumen output at lower temperatures. For many customers, the switch to fluorescent lighting is just not economical.

"Instead of moving to fluorescent to lower your wattage and save money, you can switch to HID controlled by the VB400 without sacrificing brightness," said Flores.

The VB400 replaces magnetic ballasts, timers, relays, control panels, photo cells and the intensive wiring required to connect each lighting fixture to all other external parts, as well as to the control panel. It offers energy management and energy savings features which conventional matched sets of HID ballast and lamps, newer electronic HID ballasts, and T5/T8 HO fluorescent ballasts cannot match.
The LC (a number of VB400s working together via software) can control as many lamps as can be connected to the Internet. The system has a built-in dimmer, timer, scheduler and photo cell and allows for scene control to emulate sunlight. An onboard digital display offers individual control, while wired or wireless control of all functions, a computer interface for networking, and remote controls via Internet provide a vast array of control capabilities for any number of locations.

The VB400 enables the use of 200W to 400W bulbs no matter what manufacturer, wattage, HID type or input voltage, whereas typical HID lighting products require matched bulbs and fixtures from a particular manufacturer with a fixed input voltage. The VB400 is plug-and-play, and after installation users can change voltage input, lamp wattage, lamp type and manufacturer without modifications.

"VB400 technology increases the performance and optimizes the efficiency of each HID lamp while lowering lighting energy costs by as much as 40 to 60 percent," said Flores. "In fact, the VB400 lighting control begins to pay for itself from the savings generated by the first month's reduced energy bills."

The IEPC web site features a cost savings comparison page that allows customers to calculate how much money they would save with the VB400 technology.

The VB400 lighting control contains an advanced, highly efficient electronic ballast for HID lamps. It also features several microprocessors to regulate the current flow and optimize performance for nearly every type of HID lamp - metal halide, high-pressure sodium and pulse start - thereby extending the life of the lamp. The VB400 also features dimming and timing controls with thermal monitoring and on-board, real-time diagnostics that indicate replacement time for re-lamping, further extending lamp life.

The VB400 and VB400N controls are available immediately through a pilot program with IEPC. For more information, visit www.iepc.cc , email vbsales@iepc.cc or call 714-892-4443.

About IEPC
International Engineering Products and Consulting Corp. ("IEPC") of Huntington Beach, California was founded in December 1997 originally as a contract engineering company, and incorporated in January 1999 as a California C Corporation. Privately held, IEPC now specializes in developing lighting control products. For the past four years the company has concentrated on an energy management system that replaces magnetic ballasts, timers, relays, control panels and the intensive wiring required to connect each lighting fixture to external parts with one standalone unit.

More from Controls & Controllers