Lighting Control Consoles offer software-based programming.
Press Release Summary: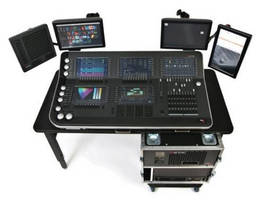 Models PRG V676® and V476® are available with Vx76 v3.0 Software, which provides integrated 3D programming environment with real-time status and off-line editing capabilities. Media Display, located in Function Palette on front panel of console, facilitates access to media clips. Along with CITP Media Protocol Control, features include 4,000 channels of control, Patch spreadsheet with interface for editing and tagging data, and multiple dimmer address support.
---
Original Press Release:

PRG Releases Vx76 Software Version 3.0 for V676 and V476 Lighting Control Consoles



ARMONK, N.Y. -- Production Resource Group, L.L.C. (PRG) is pleased to announce the release of Vx76 Software Version 3.0 software for both the PRG V676® and V476® Lighting Control Consoles. The V676 and V476 consoles have been used on many high-profile projects including: Bridgestone Super Bowl XLVI Halftime Show, The Grammy Awards, Spider-Man: Turn off the Dark on Broadway, the Chrysler exhibit at the North American International Auto Show, the UK's Let's Dance, and the Academy Awards. They are currently available at PRG offices in Europe, Australia, Japan, and throughout North America.

Version 3.0 includes several new features that extend the console's capabilities along with a number of enhancements that both programmers and designers will appreciate. The Media Display has been moved to the Function Palette on the front panel of the console for easy access to media clips. The Console now includes CITP Media Protocol Control.

Along with an expansion to 4,000 channels of control, v3.0 has a revised Patch spreadsheet that provides an improved interface for editing and tagging data, as well as the ability to view multiple dimmer addresses patched to a single control channel. Other programming features in the v3.0 release include: Group Copy by parameter, Copy and Move Subs, Copy Channel Using Group, and Manual Data Undo. There are also a number of new tools provided in the Group Super Palette such as Multi-Level Ad Hoc Selecting by filtering Channels, Palettes, Presets, Dynamics, Cues, and Intensity States. A smart grouping feature provides user-definable channel selection.

The Vx76 software application provides an integrated 3D programming environment, which includes real-time status and off-line editing. The v3.0 software Layers feature adds functionality to the Plan View and provides the user with many different "views" of the system. In the Plan View, users may also draw Regions, which can be easily manipulated.

A new Basic Profile Editor is also now available on the V676/V476 product pages of the PRG website www.prg.com/product/v676-control-console/. The Profile Editor application is used for creating a basic profile definition for a fixture that does not currently exist in the console, as well as importing fixture profiles. This is a stand-alone application that runs on any Macintosh operating on Snow Leopard or Lion.

For more information on the Vx76 v3.0 Software, please visit:
http://www.prg.com/wp-content/uploads/2011/08/Vx76-v3.0-Software-Datasheet.pdf

For more information on PRG, please visit www.prg.com.

About Production Resource Group - Production Resource Group, L.L.C., (PRG) is the world's leading supplier of entertainment and event technology to a wide range of markets, including corporate and automotive events, concerts, special events, theatre, television and film, trade shows, and installations, such as theme parks, museums, retail stores and performing arts centers. PRG provides integrated services and equipment, including audio, video, lighting, rigging, scenery, and rigging and automation systems, for these markets from more than 40 offices in North America, South America, Europe, Africa, Asia and Australia.