Lighting-Class LEDs deliver 100 lumens of light.
Press Release Summary: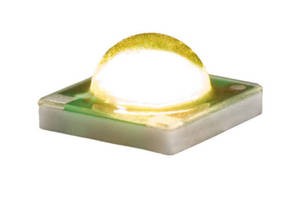 XLamp® XP-C LEDs come in cool white with up to 107 lumens at 350 mA. Warm white models are available up to 80 lumens at 350 mA. They are offered in ANSI-compatible chromaticity bins for cool and neutral white and in ANSI-compatible warm white bins.
---
Original Press Release:

New XLamp® XP-C LEDs Redefine 100-Lumen Price/Performance Levels



New XLamp® XP-C LEDs Redefine 100-Lumen Price/Performance Levels

DURHAM, N.C., OCTOBER 27, 2009 - Cree, Inc. (Nasdaq:CREE), a market leader in LED lighting, is redefining expectations of lighting-class LEDs with the addition of new 100+ lumen XLamp® XP-C LEDs to the company's line of XLamp LEDs. This addition shifts Cree's entire XLamp portfolio of lighting-class LEDs into the 100+ lumen range, at 350 mA.

"Cree is redefining lighting-class LEDs yet again," said Paul Thieken, Cree marketing director, LED components. "Customers now expect high-volume 100 lumen parts, and the Cree XLamp family delivers more than 100 lumens at 350 mA with the addition of these new XLamp XP-C LEDs."

XLamp XP-C LEDs are available in cool white with up to 107 lumens at 350 mA.
Warm white XP-C LEDs are available up to 80 lumens at 350 mA. XLamp XP-C LEDs are ideally suited for applications requiring high-performance, lower-priced lighting-class LEDs. They are available in ANSI-compatible chromaticity bins for cool and neutral white and in the industry's smallest ANSI-compatible warm white bins.

About Cree

Cree is leading the LED lighting revolution and setting the stage to obsolete the incandescent light bulb through the use of energy-efficient, environmentally friendly LED lighting. Cree is a market-leading innovator of lighting-class LEDs, LED lighting, and semiconductor solutions for wireless and power applications.

Cree's product families include LED fixtures and bulbs, blue and green LED chips, high-brightness LEDs, lighting-class power LEDs, power-switching devices and radio-frequency/wireless devices. Cree solutions are driving improvements in applications such as general illumination, backlighting, electronic signs and signals, variable-speed motors, and wireless communications.

For additional product and company information, please refer to www.cree.com

More from Communication Systems & Equipment