Light Panel A4+ weighs 22.6 oz.
Press Release Summary: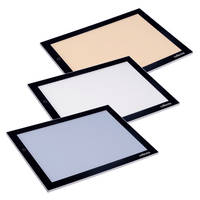 Light Panel A4+ comes with lighting area of 12.2 x 8.3 in. and offers adjustment for color temperature to 3000, 5000 or 8000 Kelvin. Unit's LED provides life span of 50,000 hours. Product is suitable for print shops, film, and photo or tattoo studios applications and comes in thickness of 0.3 in. Light panel features adaptor of 5 Volt 2 Amp.
---
Original Press Release:
reflecta and OmegaBrandess Present Light Panel A4+ with Adjustable Color Temperature
New LED Light Panel A4+ with dimmable lighting and light temperature adjustment
For those who work with film material on a regular basis, such as slides and negatives, the use of a light panel is inevitable. The German specialist for presentation techniques from Baden Württemberg, reflecta GmbH in Eutingen near Stuttgart, offers the Light Panel A4+ with dimmable LED lighting and adjustable color temperature.
The new reflecta Light Panel A4+ has a lighting area of 12.2 x 8.3 in, so that 24 framed slides in 35mm format can be viewed simultaneously. The color temperature can be adjusted to 3000, 5000 or 8000 Kelvin, to simulate different lighting circumstances. With the help of the light panels, one can correct drawings, or refine and review sketches. Slides in 35mm format which are stored in archive sleeves can be viewed in their entirety on the light panels. The light panel is an important work tool in print shops as well as film, photo or tattoo studios. See-through material such as transparent paper can be placed on top of one another and thus edited.
The dimmable LEDs with a life span of approximately 50,000 hours ensure an even lighting of the panel, so that the corners and borders of the panel can be also used to view positives.
Its weight of only 22.6 oz, as well as the slight thickness of only 0.3 in, is a convincing selling point along with the genius light design of the light panel. Due to its small size, the light panel is easily transported and stored, as well as integrated into any working area as a visual eye-catcher.
Light Panel A4+
Lighting area: 12.2 x 8.3 in
Adjustable lighting (dimmable)
Adjustable color temperature 3000K / 5000K / 8000K
Light source: LEDs
Life Span LEDs: approx. 50,000 
hours
Power supply: adaptor 5 Volt 2 Amp
Weight: 22.6 oz
reflecta's new Light Pad A4+ is available in late December/early January from photo specialty stores, at a suggested retail price of $159.99.
About OmegaBrandess
OmegaBrandess has manufactured and distributed photographic and imaging products for over 75 years. A privately held company, OmegaBrandess supplies the photography industry with over ten thousand products. 410-374-3250 or visit www.omegabrandess.com
More from Electrical Equipment & Systems