Light Level Switching Ballast accommodates F14T5 lamps.
Press Release Summary: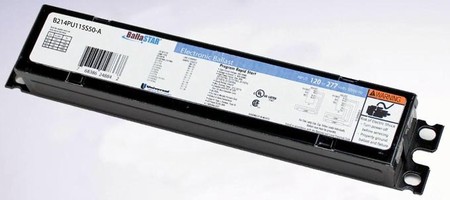 Switching from full to half output via wall switch or lighting relay, Ballastar® T5 (part no. B214PU115S50A) has ballast factor of 1.15 and can operate one or two F14T5 lamps. It provides max light output for 2-by-2 fixture applications and illuminates entire area evenly. Operating from 120-277 V, 50 or 60 Hz, ballast includes end-of-lamp-life shutdown circuitry with auto re-strike for safe operation and exhibits less than 10% THD at full brightness.
---
Original Press Release:

Universal Lighting Introduces New Ballastar Ballasts for F14T5 Lamps



NASHVILLE, Tenn. (July 25, 2007) - Universal Lighting Technologies has introduced the latest expansion of its Ballastar® line of light-level switching ballasts. The B214PU115S50A is specifically designed for F14T5 lamps and provides maximum light output for 2-by-2 fixture applications. Switching from full to half output via wall switch or lighting relay, the Ballastar T5 is ideal for offices, classrooms, conference rooms, and more.

The light-level switching capability of the Ballastar T5 allows for simple compliance with ASHRAE 90.1 and California Title 24 switching requirements. Unlike standard ballast and lamp switching, light-level switching illuminates an entire area evenly without dark spots. All Ballastar ballasts incorporate two "hot" power leads for control with two standard switches or relays, which simplifies installation. Switching one lead on provides 50-percent power, while having both switches on provides 100-percent power. This control scheme is very intuitive for end-user operation; no instructions or training is necessary for use.

The B214PU1115S50A has a ballast factor of 1.15 and can operate one or two F14T5 lamps. Programmed starting is incorporated into the design, which helps maintain long lamp life even when connected with occupancy sensors, as are frequently being installed. Ballastar ballasts comply with ANSI ballast requirements and include end-of-lamp-life shutdown circuitry with auto re-strike for safe operation. Universal input voltage allows Ballastar to be connected to any voltage from 120 to 277 volts at 50 or 60 hertz. The ballast operates with less than 10 percent THD at full bright.

For more information on Universal Lighting Technologies and the Ballastar family of ballasts, call 1-800-BALLAST or visit www.universalballast.com.

For six decades, Universal Lighting Technologies, Inc., has been bringing power and precision to the world's most innovative lighting. Headquartered in Nashville, Tenn., with operations and distribution worldwide, the products of Universal Lighting Technologies are marketed under the Universal®, Triad®, and Signa® brand names. Universal Lighting Technologies is focused on designing, manufacturing and distributing the industry's finest lighting ballasts and controls. Universal Lighting Technologies - Energy Intelligence in Lighting.

Contact:
Rick Lewis
Gish, Sherwood & Friends
(615) 385-1100
rlewis@gish.com

More from Architectural & Civil Engineering Products