Light Guides are RoHS compliant.
Press Release Summary: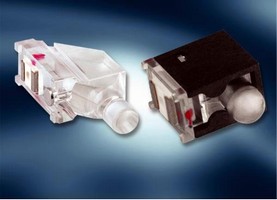 Featuring integrated LEDs, M-Pipe light guides can withstand 260°C for 40 sec, or 200°C for 180 sec. Removed from direct contact with front panel, LED devices provice 7-12 kV isolation. M-pipes come with or without additional solder tags or fixing pins; with single or dual LED versions in 2 diameters and shapes; with or without adjacent-light radiating covers; and in vertical and horizontal orientations. Devices are compatible with all standard automatic insertion equipment.
---
Original Press Release:

New High-Temperature Resistant Light Guides From Elma Are RoHS Compliant



FREMONT, California, July 25, 2006 - Elma Electronic, a pioneer in light guide and light guide with integrated LED combination technology has introduced a new range of high temperature tolerant light guides with integrated LEDs.

This new, patented material and forming process, called M-Pipe Technology, is ideal for soldering profiles conforming to IPC/JEDEC J-STD-G20, DIN 45802 and DIN EN60068-2-58. Previously, the temperatures commonly used with this industry standard profiles of IR and Vapor Phase soldering has been too high for light guides and light guides with integrated LEDs.

The Elma M-Pipes can withstand 260 degrees C for 40 seconds, or 200 degrees C for 180 seconds. This represents a substantial improvement in compatible solderability with other components from the previous 235 degrees C and 185 degrees C respectively. Additionally, because the SMD LED devices themselves are far removed from direct contact to the front panel, ESD protection is greatly increased over conventional LED designs, providing 7kV-12kV isolation, depending on the series.

Available in different styles, the Elma M-pipes come with or without additional solder tags or fixing pins; with single or dual LED versions in two different diameters and shapes; with or without adjacent-light radiating covers, and in both vertical and horizontal orientations. M-Pipes are compatible with all standard automatic insertion equipment and were designed from their inception to be completely RoHS compliant.

The lead-time is stock to 2 weeks ARO.

For more information on Elma's switches, knobs, and custom design services, please contact Mark Thorsell at 510-656-5829 x228.

About Elma Electronic
Elma Electronic Inc. is a leading manufacturer and supplier of enclosures, backplanes, cabinets, cases, and "ready-to-run" packaging for CPCI, Rugged COTS, VME/64x, VXI, PC and custom bus structures. Elma's component product line offers a wide selection of top quality switches knobs and LED arrays. The company has been a worldwide supplier of dependable, high performance products for over 35 years. Elma operates three facilities in the continental United States plus has locations in Switzerland, Germany, France, the United Kingdom and Israel.

Elma Electronic Inc. is located at 44350 Grimmer Blvd., Fremont, CA 94538 USA. Telephone (510) 656-3400 - Fax (510) 656-3783. www.elma.com

Company Contact: Justin Moll, Elma Electronic

Phone 510.490.7388 Fax 510.490.1853 e-mail: jmoll@Bustronic.com


Related