Lifts help to prevent back injuries.
Press Release Summary: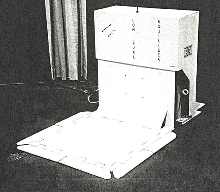 With its 400 lb capacity, Model 2001 Equalizer Series Ergo Lift offers 42 x 42 in. platform; 80 psi compressed air power source, filtered; lowered height of 4.5 in.; and raised height of 16.5 in. ERGO LIFT II is similar to Model 2001, except that its lowered height is 1.0 in., and its raised height is 17 in. Model 2310 employs 36 x 120 in. platform, lowered height of 5.5 in., and raised height of 17.5 in. Its capacity is 800 lbs.
---
Original Press Release:
Ergo Lifts Reduce Workplace Back Injuries!

A recently developed new ergonomic product, Ergo Lifts are being introduced in the industrial market.

Ergo Lifts, developed by Industrial Design & Supply, Inc. of Perrysburg, Ohio started almost 3 years ago. Company owner and President, James J. Staczek, Ergo Lift inventor, states that over 100 units have been in use in the industrial environment, some over 2 years. They have all been in use in high volume companies, most automotive related, from foundries, assembly and test work stations. In all cases they have been applied in situations where employees have a reach beyond the acceptable limits established by NIOSH.

The Material Handling Industry of America (MHIA) has analyzed many injuries and workplace layouts and determined that, manual material handling accounts for 25 - 40% of all lost time injuries in American industry and in excess of $50 billion per year. Low back injuries are the most common and severe and by themselves account for 25% of the losses.

Mr. Staczek recognized the need after one of his larger accounts for fluid power equipment told him that they had to attack one of their process lines to better position the employees in relation to the parts moving on the process line, because of the high frequency of lower back injuries. He accepted the challenge, thus inventing the adjustable height work platforms, Ergo Lifts, applied for and received patents on the control circuit, which requires only filtered compressed air. He initially supplied 12 units which were installed on the line and immediately the customer experienced fewer lower back injuries and related costs. The same customer ordered 32 additional Ergo Lifts for an adjacent similar process line. In over a year of usage the two Ergo Lift equipped lines have experienced NO lower back injuries and related workmen's compensation costs, while the remaining unequipped line has experienced several back injuries. This provides the hard evidence that the position of the person related to their work is critical.

Subsequently, the initial customer had a need for a Low Level Ergo Lift, so Industrial Design & Supply, Inc. developed a low level unit that when lowered the platform is only 1" above the floor, so it is wheelchair accessible! Other customers have had additional needs, resulting in development of, Remote Controlled, Double Wide, and larger various shaped platforms integrating our innovative products.

Additional validation that the position of the person to their work is very important, is confirmed by a study conducted and subsequent paper authored by W.S.Marras, W.G. Allread, D.L. Burr and F.A. Fathallah in conjunction with Ohio State University and University of California, Paper No. ERG 101967.

Mr. Staczek states that as of the date of this publication, we now have over 100 units in several plant locations, all with very good results which points out that careful evaluation and proper application of the corrective measures are critical and utilization of an ergonomic specialist will improve results by increasing productivity, reducing back injuries and reducing related costs. In other words, "Ergo Lifts, make sense and save money!", per Mr. Staczek.

ERGO LIFT FACTS

Model 2001 ERGO LIFT Equalizer Series Photo Attached
Platform size: 42"x 42" (Standard, other sizes available)
Power Source: Compressed Air- 80 psi., Filtered
Lowered Height: 4.5"
Raised Height: 16.5"
Capacity: 400 Pounds (standard, other capacities available)
Operating Pedestal Height: 50.0" ( Can be remote from unit)
Options: Tool Tray, Hand Rails
Patent Protected

Model: ERGO LIFT II - LOW LEVEL
Platform Size: 42" x 42" (Standard, other sizes available)
Power Source: Compressed Air - 80 psi., Filtered
Lowered Height: 1.0" (Wheelchair Accessible)
Raised Height: 17.0"
Capacity: 400 Pounds (Standard, other capacities available)
Operating Pedestal Height: 40.5"
Options: Tool; Tray, Hand Rails
Patent Protected

Model 2310 ERGO LIFT Equalizer Series Photo Attached
Platform size: 36 X 120" (other sizes available)
Power Source: Compressed Air- 80 psi., Filtered
Lowered Height: 5.5"
Raised Height: 17.5"
Capacity: 800 Pounds ( other capacities available )
Operating Pedestal Height: 50.0" (Can be remote from unit)
Options: Tool Tray, Hand Rails
Patent Protected
More from Sensors, Monitors & Transducers