Lifting Magnet Tower is offered in welded and pinned on versions.
Press Release Summary: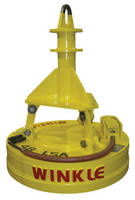 Permanent tower, placed directly on top of magnet, lets operators combine grapple and magnet on-the-fly. It accommodates DSG/ELSA/LSA/DSA/EDSA magnets and most other makes/models of scrap magnets. With tines closed around tower, magnet is suspended below grapple. This provides operator with clear view of magnet for placement and facilitates operation. Tower can be grasped by grapple tines while operator is in cab, leaving operator with having to attach electrical line for generator.
---
Original Press Release:

Grab and Go - Winkle Industries Adds a Tower of Productivity for Its Line of Lifting Magnets



Alliance, OH - Winkle Industries has introduced an innovative addition to its line of lifting magnets that will practically allow operators to combine a grapple and magnet on the fly.

The company is now offering a permanent tower that is placed directly on top of the magnet. Winkle's DSG, ELSA, LSA, DSA and EDSA magnets, as well as most other makes and models of scrap magnets can be accommodated with either a welded or pinned on Winkle tower.

Combining a grapple and magnet has been traditionally used for applications that require handling punchings, turnings, shred as well as other less dense similar materials. These types of scrap generally fall through the grapple tines so the magnet is used to hold them in place. This combination is also often used to sweep up metal from the ground when the scrap pile is too shallow for the grapple to effectively lift scrap without picking up dirt and other debris.

Standard scrap handling magnets come with a three legged magnet chain and are not designed to be bolted to the head plate inside the grapple. Some operators utilize a magnet grapple combination for this type of application. However, this configuration does have some limitations. According to Winkle's Director of Sales, Mark Volansky, "The tines need to be fully opened to use the magnet portion of the grapple for sweeping or sorting and in this position, working like this in tight quarters is not practical."

This innovation from Winkle came as a result of listening to customers' needs to increase their overall productivity and magnet utilization. "With the tines closed around the tower", continued Volansky, "the tower suspends the magnet below the grapple allowing the operator clear view of the magnet for placement and ease of operation."

The advantage now, according to Winkle's customers, is that the tower can be grasped by the grapple tines while the operator is in the cab instead of stopping to chain the magnet on to the grapple attachment or completely switching attachments. This only leaves the operator with having to attach the electrical line for the generator. If a worker on the ground is available to do this, the operator does not even need to exit the cab. This increases the on-the-job productivity across the board.

About Winkle Industries
Winkle Industries is a worldwide leader in engineered solutions for users of mill-duty material handling equipment. Capabilities include above-the-hook and below-the-hook lifting devices, electrical and mechanical crane products, on-the-ground material handling equipment, engineering services, aftermarket services, machining and fabrication. Winkle's experience and resources are "raising customer expectations" on a wide range of needs, from innovative product design to customer process improvement.


More from Electrical Equipment & Systems